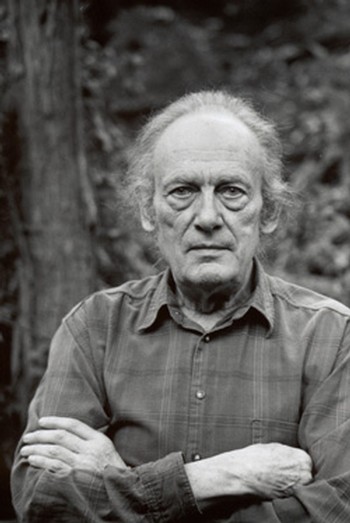 Richard Meale
Richard Meale (1932-2009) was one of the towering figures of Australian composition. After initial music studies in piano, clarinet, harp, history and theory at the Sydney Conservatorium, Meale also studied non-Western music at UCLA, especially Japanese court music and Javanese and Balinese gamelan.
In 1960 he was awarded a Ford Foundation Grant which he used to undertake studies in non-Western music at the University of California in Los Angeles, where he concentrated on Japanese court music and Javanese and Balinese gamelan. His early works such as the Sonata for flute and piano (1960) introduced many of the methods of the international avant-garde to Australia, and Coruscations (1971) is a kind of culmination of these techniques.
During this period Richard Meale also played a crucial part in the propagation of avant-garde music in Australia as a pianist, lecturer and broadcaster and conductor as well as composing. His style after Viridian (1979) and and String Quartet No. 2 (1980) showed a marked change of direction, becoming more exclusively lyrical and embracing a frank tonality. From 1969 to 1988 he was Reader in Composition at the music faculty of the University of Adelaide. In 2000, Meale was conferred Doctor of Letters honoris causa by the University of New England.
With his Sonata for Flute and Piano (1960), Meale focussed local attention on the methods of the international avant-garde which were then not well-known in Australia. The Sonata won for Meale the Ford Foundation Grant and was performed at the 1963 World ISCM Festival in Amsterdam.
After returning to Australia, Meale joined the Music Department of the Australian Broadcasting Corporation, where for seven years he made an important contribution to national radio with special programs of Asian and contemporary music. As a pianist, lecturer and broadcaster, conductor and composer, Richard Meale played a crucial part in the propagation of avant-garde music in Australia. He has given the first local performances of works by Boulez, Bussotti, Castiglioni and Messiaen, as well as conducting the Australian premiere of Schoenbergís Pierrot Lunaire with Marilyn Richardson. During this time, his own music was generating considerable interest within Australia and in 1965 Dean Dixon performed Homage to Garcia Lorca in Europe.
With Images (Nagauta) in 1966, Nocturnes (1967), Very High Kings (1968), ...Clouds Now and Then, Soon it will Die (1969), (1969), Interiors/Exteriors (1970), Coruscations (1971), Incredible Floridas (1971) for Peter Maxwell Davies and The Fires of London, Evocations (1973) for Paul Sacher and the Collegium Musicum of Zurich, and with his String Quartet (1975), Meale achieved international recognition and was represented at festivals such as ISCM World Music Days, Warsaw Autumn Festival and the Paris Rostrum, as well as frequently broadcast on European radio. In 1969, Meale was appointed to the University of Adelaide, where he was Reader in Composition until 1988.
In works such as Viridian (1979) and String Quartet No. 2 (1980), Meale has shown a further change of direction with the introduction of more lyric elements. This process continued into Voss, his first opera, which premiered in Adelaide in 1986. In 1989 Meale was awarded an Australian Creative Fellowship. His second opera, Mer de Glace, again with libretto by David Malouf, premiered in Sydney in October 1991. Meale's first Symphony premiered at the Adelaide Festival in March 1994. The Wihan Quartet's Australian debut tour for Musica Viva included the first performance of his String Quartet No. 3, which was commissioned by Kenneth Tribe to commemorate Musica Viva's 50th birthday in 1995.
Melisande for solo flute was premiered in 1996. In 1998 the Lights Ensemble performed Lumen for the Centenary of the Adelaide Conservatorium. Palimpsest was commissioned by the Griffith Ensemble and premiered by the Lights Ensemble at the Barossa Music Festival in 1999. In 2002, his Three Miro Pieces was performed by the Sydney Symphony Orchestra.
Richard Meale died in Sydney, aged 77, on 23 November, 2009.
Compositions by Richard Meale appear on

Derek Jones (flute) and Cameron Roberts (piano) present a program of new Australian works composed by Anne Boyd, Stuart Greenbaum, Rohan Phillips, Mark Pollard and Richard Meale.
Composer

The Kreutzer Quartet has forged an enviable reputation as one of Europe's most dynamic and innovative string quartets. Here they present four Australian quartets.
Composer

Michael Kieran Harvey plays new music for keyboard. Featuring the works of Graham Hair, Douglas Knehans, Martin Friedel, Richard Meale and Hilda Paredes.
Composer