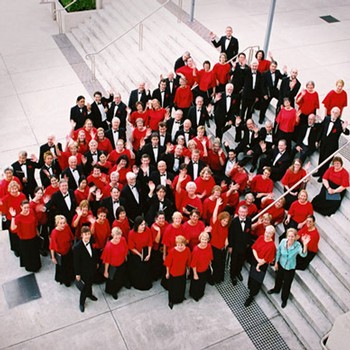 The Brisbane Chorale
The Brisbane Chorale is a symphonic choir of over 100 voices with a reputation for excellence in choral performance. Its repertoire is broad and extensive; in recent years this has included the great oratorios – Mendelssohn's Elijah, and St Paul and Handel's Messiah – and compelling performances of 20th century works: Orff's Catulli Carmina and Vaughan Williams' Sea Symphony (celebrating the Queensland Conservatorium's 50th anniversary), and Carmina Burana and Kancheli's Styx with The Queensland Orchestra.
Since its beginnings in 1983 as a new force in choral music, emerging from the amalgamation and expansion of existing choirs at the Queensland Conservatorium of Music, the Chorale has made its mark in the cultural landscape of Brisbane, Queensland and Australia. Its journey has been a story of many explorations of repertoire, events, collaborations. Today, the Brisbane Chorale is a popular fixture on the musical calendar of the city, and beyond.

The Chorale regularly performs with The Queensland Symphony Orchestra. Over many years the Chorale has participated in the Queensland Pops Orchestra's Best of British concerts, the 4MBS Festival of Classics, and the Queensland Performing Arts Centre's Spirit of Christmas concerts.

The Chorale also greatly appreciates and takes pride in maintaining its strong links with the 'Con', now a school of Griffith University.
Artist's website: www.brisbanechorale.org.au
The Brisbane Chorale is featured on the following titles

Christmas at the Sydney Town Hall, presented annually by the City of Sydney, originated in 1978 when Robert Ampt was appointed the fourth Sydney City Organist. Since then the structure and content of this event has evolved into one of Sydney's major Christmas celebrations.
Performer