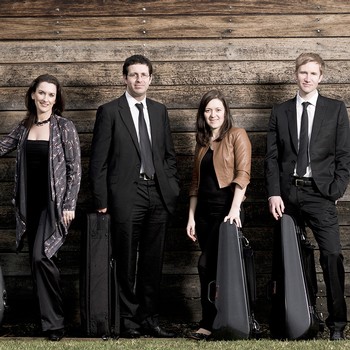 Tinalley String Quartet
Tinalley String Quartet has rapidly achieved recognition as one of the most exciting quartets, not only in their home of Australia but also on the world stage.
Tinalley was awarded First Prize at the prestigious 9th Banff International String Quartet Competition in 2007 and the Grand Prize at the 2005 Australian Chamber Music Competition, now known as the Asia Pacific Music Competition.
From the Sydney Opera House to the Amsterdam Concertgebouw, the Quartet has performed to audiences around the world. International highlights have included appearances at the Vienna Musikverein, Berlin Konzerthaus, Amsterdam Concertgebouw, Bremen Die Glocke, Frankfurt AlteOper, as well as in Paris, Hamburg, Nurnberg, Luxembourg, Baden-Baden, Utrecht, Vancouver, Calgary, San Jose, San Francisco, San Diego, Toronto and New York. In Australia, the Quartet has appeared in recital for the Melbourne Recital Centre, Sydney Opera House, Musica Viva Australia, and at many of Australia's premier festivals, including the Port Fairy Festival; Perth International Arts Festival; Canberra International Music Festival; Huntington Festival and the Melbourne International Arts Festival.
Formed in 2003 at The University of Melbourne; the Tinalley String Quartet has been mentored by many of the world's finest quartets, including members of the Tokyo, St. Lawrence, Keller, Takàcs and Schoenberg String Quartets. Between 2005 – 2007, the Quartet studied at the International Musicians Seminar, Prussia Cove, United Kingdom; the Norfolk Chamber Music Festival as part of the Yale Summer School of Music; the St. Lawrence String Quartet Chamber Music Seminar at Stanford University and the Banff Centre for the Arts, Canada. In 2006 Tinalley was based at the Australian National Academy of Music as Visiting Young Artists.
The Quartet has been broadcast by ABC Classic FM Australia, CBC Canada, SRW2 and HR2 Kultur Germany, Radio France and Public National Radio, The Netherlands.
Tinalley was selected in 2007 as one of 'Melbourne's 100 Most Influential People' in The Age and was nominated in the category of best newcomer in the 2008 Limelight magazine awards.
Artist's website: tinalley.com.au
Tinalley String Quartet is featured on the following titles

As first prize winners of the 9th Banff International String Quartet Competition, the Tinalley String Quartet was awarded the opportunity to make this CD at The Banff Centre, Banff, Alberta, Canada.
Performer