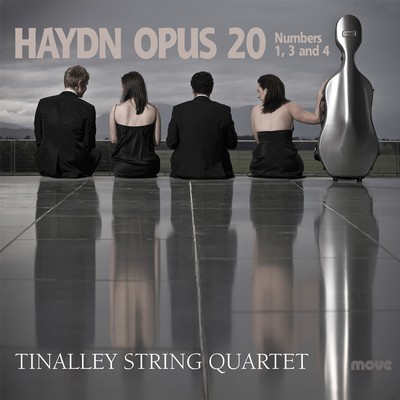 Haydn Opus 20
As first prize winners of the 9th Banff International String Quartet Competition, the Tinalley String Quartet was awarded the opportunity to make this CD at The Banff Centre, Banff, Alberta, Canada.
In writing his Opus 20 set of string quartets, Haydn pioneered a new voice of expression. Composed in 1772, these works heralded a new age in string quartet composition and would define a genre that would serve as an outlet for many composers' finest contemplations.  
Artist

Tinalley String Quartet has rapidly achieved recognition as one of the most exciting quartets, not only in their home of Australia but also on the world stage.
Press quotes
"'Extraordinarily superior playing in very sophisticated and deeply felt interpretations. '"
— Forum Kultur Heppenheim,
"'They play with dedication in every note, in every well-crafted phrase that emerges with a judicious mix of spontaneity and maturity'"
— Courier Mail Australia,
"The Tinalleys play with superb uniformity and each player can blend their sound or jump into the fray with beautiful solos. These qualities are only the beginning for a string quartet's musical journey. Their intonation is excellent — even the slightest variance can stick out like a sore thumb. No sore thumbs, here. Yet, I know of three very famous quartets whose wonky intonation (sharp first violins, primarily) almost kneecapped them. What saved them is the final part of the musical equation. Personality. The three quartets in question had musical charisma in spades. So, where does the Tinalley stand?
This is where time together is important. Ten years of togetherness shows in the risks they take and the obvious trust they have in one another. More time is required to develop its corporate identity — I put the CD on for some friends and they felt the playing wonderful but not especially idiomatic. That may be a little harsh — if you have a need for a recording of these amazing quartets, the Tinalleys will do nicely.
The three Haydn Quartets from Opus 20 (1772) were a great choice for their prize recording. The quartets went along way to making 'Papa' Haydn the 'Papa' of the string quartet. They are filled with rhythmic fire, wonderful melodies, variations (here is where the individual players get to really shine), and rock sold musical forms. They were written when Haydn was 40 and echo the 'Sturm und Drang' movement (Storm and Stress) and feature intense and stirring elements. I'm ashamed to say I did not know the music before this recording. I urge you to use this CD as a launching point to discover other Haydn chamber masterpieces.
Will the Tinalleys develop the unique qualities of stellar groups like the Alban Berg, Emerson, Amadeus, Hagen, LaSalle, Busch, etc.? Only time will tell. Individually, they are excellent musicians. But, are they world class? That's where the soccer comparison comes in. I first listened to the CD on the upstairs system which flanks the flat screen. As I listened casually, and watched England's 'superstars' get clobbered by Costa Rica's journeyman players, my thoughts fell to chamber groups and their development.
The Tinalley is comprised of first desk, Australian orchestral musicians. That, in itself is fine, but the Berlin and Vienna orchestras have their own quartets. They are wonderful and comprise world class players but are no better corporately than the Tinalleys. There are recordings of the world's greatest string players dabbling in quartets (think Neymar on first violin, Saurez on second, Messi on viola, and Rinaldo on cello). I can't think of one that is distinctive. Just like the world class players of England, Spain and Italy are heading home early from this World Cup, little Uruguay, Greece, etc go through. The Tinnaley String Quartet is not the 'Socceroos' from Australia (also going home early), its Uruguay. Very good quality but coupled with the great spirit, drive and teamwork that's needed to conquer musical Everests.
So, a fine achievement all around, from Canada's amazing Banff Centre that hosts the competition and provides training, Move Records, which produced a wonderful recording, full of ambiance, clarity and a wide, deep soundstage, and the Tinalley String Quartet. A great quartet in the making."
— Anthony Kershaw, Audophilia
"This recording opportunity formed part of the Australian Tinalley Quartet's first prize in the ninth International Banff String Quartet Competition (2007). For various reasons the end product, captured in 2011, has taken an age to reach the catalogue, but the wait has been worthwhile.
These performances are technically assured, warm-toned, beautifully blended and ideally balanced. The Tinalley's approach to articulation is especially striking: the players separate some notes that are normally syncopated in the finale of no.1 and ignore much 'traditional' slurring. They characterise Haydn's differing moods with sharp insights (especially in the cheeky finale of no.4), relish his developing dramatic language, occasionally add ornamentation in repeats, and make telling use of silence as an expressive device (finale of no.3). They draw full value from his digressions to remote keys and his excursion into folk music (in no.4's extrovert Menuetto alla zingarese) and communicate detail vividly, yet bring to the music breadth, control and cohesiveness (as in the Affettuoso of no.1)."
— Robin Stowell, The Strad Magazine
Track Listing
String Quartet in D major, Op. 20, No. 4, Hob. III:34 Franz Joseph Haydn

Allegro di molto 7:52
Un poco Adagio e affettuoso 8:41
Menuet alla Zingarese. Allegretto 1:41
Presto e scherzando 4:46

String Quartet in E flat major, Op. 20, No.1, Hob.III:31 Franz Joseph Haydn

Allegro Moderato 5:41
Menuet. Un poco Allegretto 3:53
Affettuoso e sostenuto 5:15
Finale. Presto 3:45

String Quartet in G minor, Op. 20, No. 3, Hob.III:33 Franz Joseph Haydn

Allegro con Spirito 6:18
Menuet. Allegretto 3:56
Poco Adagio 9:02
Finale. Allegro di molto 3:44
Performers
Composer

Franz Joseph Haydn (1732–1809) was an Austrian composer, one of the most prolific and prominent composers of the Classical period. He is often called the "Father of the Symphony" and "Father of the String Quartet" because of his important contributions to these forms.
Where to buy
Haydn Opus 20 can be purchased online through Buywell Just Classical or the Australian Music Centre which both offer secure online ordering.
This title is also available in (or can be ordered through) many fine music retailers across Australia, including Thomas', Discurio and Readings.
Product details
List price

$25.00 AUD

Total playing time

64 minutes 34 seconds

Release date

May 2014

Copyright

© 2011 Tinalley String Quartet

Phonogram

℗ 2014 Move Records

Category

Catalogue number

MD 3374

Barcode

EAN 9314574337426