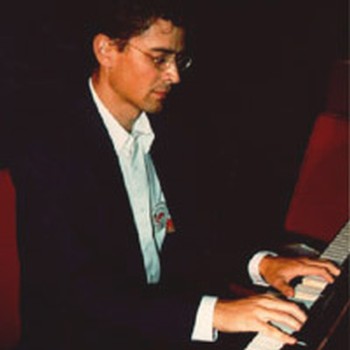 Todd Sidney
Inspired by Oscar Peterson and George Shearing Todd plays the piano with uncommon passion and sensitivity, bringing sparkle and originality to many favourite tunes.
Although originally known as a bass player in Melbourne, Todd has now gained recognition as a fine pianist. Initially working with Sophisticated Ladies, Mmm Jazz, Lush Vibe and Emma Sidney's Soiree, more recently Todd has worked as the pianist with other bands such as the Ted White Big Band and Andy Free's Jazz Cats. On his return to Melbourne in 2002 Todd rejoined the Ted White Big Band (now called Downbeat Big Band) this time as the regular pianist.
Todd became a professional musician at the age of 13 as a bass player in a Hobart based dinner dance band. As a result he knows literally hundreds of tunes and is a brilliant requests pianist. Working steadily since 1978, Todd has played with a large number of fine musicians including Steve and Bob Sedergreen, Alan Zaphod, Toby Mak, Pippa Wilson, Frank Gow, Ted White and Gil Askey.
Since 1988 he has been a regular face on the Melbourne jazz scene and as the Ted White Big Band bass player Todd played the Twilight Jazz Series at the Zoo 1996-2000 and made a recording at the ABC for Jim McLeod's Jazz Track.

Todd Sidney appears on

Laid back jazz vocals float beautifully over bossa and samba rhythms. This unusual mix is inspired by the work of Brazilian artist Antonio Carlos Jobim. The result is an acoustically spacious album which seduces the senses with a mix of familiar and original material.
Performer: Piano

A passion for all kinds of love is conveyed in Emma Sidney's remarkable debut jazz CD Love Rhapsody. By song selection and interpretation, Emma leads you on a journey from one relationship to the next. With every emotive note you are drawn deep into her private world; intimately engaged one moment in the delight and ardour of love triumphant and in the next caught up in frustration, devastation and the rage of love lost.
Performer: Piano