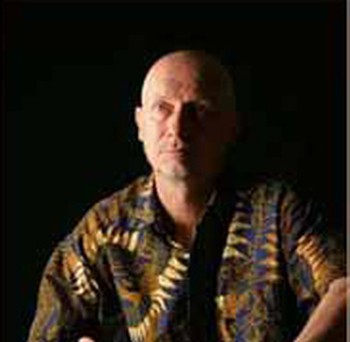 Tony Lewis
Tony Lewis survives in Sydney as a percussionist, pianist, composer, teacher and recording producer, working primarily in the fields of indigenous and multicultural musics and music for contemporary dance.
Tony Lewis has performed with many of Australia's leading contemporary and cross-cultural music, dance and theatre groups, including Sangam, Tal Vad, B'tutta, Caroline Lynn's World Edge, The Renaissance Players, Southern Crossings, Ariel, Nardoo, Nakisa, REM Theatre, the One Extra Company, Alison's Wonderland, The Great Bowing Company, Racheal Cogan, Sandy Evans, Matthew Doyle, Satsuki Odamura, Riley Lee, Mark Atkins, Michael Atherton, Margret RoadKnight, Jeannie Lewis and Cathie O'Sullivan. He has performed with many visiting international artists, including harmonic singer David Hykes, Spanish flamenco guitarist Miguel Rivera, North Indian sitar player Raj Kumar Sharma, and multi-racial South African dance troupe Moving Into Dance. He currently performs in Sydney and internationally with the acclaimed "world jazz" group Waratah.
He has toured internationally to perform, study, teach, and/or conduct cultural exchange projects in Ghana, Zimbabwe, Mauritius, Indonesia, the Philippines, South Korea, Japan, New Zealand, Papua New Guinea, many Pacific Islands, and indigenous communities around Australia. He appeared as a soloist at the Commonwealth Drum Festival in Auckland, 1990, and was Musical Director of the Asian segment of the Opening Ceremony of the Sydney 2000 Paralympic Games. In 1993 he founded the percussion group Dhamor Percussion, which he then directed for six years.
Tony has composed major works for the Aboriginal National Theatre Trust (Munjong, Victorian Arts Centre 1990), the One Extra Company (Dancing Demons, Indonesian tour 1991), the Chrissie Parrott Dance Company (Satu Langit, Perth Festival 1994), Matthew Doyle and Dhamor Percussion (Wirid-jiribin, the Lyrebird, Festival of the Dreaming 1997), and Sadari Theatre Company (Ching-kom Dari, Seoul 2001). He has composed countless other works, full length or shorter, for small dance and theatre companies and independent artists.
Tony lectures, writes and convenes music units at Macquarie University, including units on African drumming and Australian indigenous music and dance. He has also lectured in music for the University of Western Sydney, and the Australian International Conservatorium of Music, has tutored units for the University of New England, and has taught for the National Aboriginal Islander Skills Development Association. He has given guest lectures and/or seminars at Sydney University, the University of Western Sydney, Australian National University (Canberra), Monash University (Melbourne), Edith Cowan University (Perth), James Cook University (Townsville), the University of Papua New Guinea (Port Moresby), the Korean National University of the Arts (Seoul), and the University of Aarhus (Denmark). He has conducted professional and community workshops across Australia and around the world. He is currently completing a PhD in Ethnomusicology at the Sydney Conservatorium of Music, University of Sydney, through research into the garamut (log drum) music of Baluan Island, Manus Province, Papua New Guinea.
Tony has produced CD recordings for numerous artists, including Satsuki Odamura, Racheal Cogan, Riley Lee, Matthew Doyle, Zana Clarke, Sangam, Nardoo, and Nakisa
Artist's website: tonylewis.asia
Tony Lewis is featured on the following titles

Music composed by Tony Lewis for the Aboriginal Islander Dance Theatre. The works on this disc, commissioned by the Aboriginal Islander Dance Theatre, deal with the meeting points between Aboriginal and European societies and the ways in which Aboriginal people interact with the contemporary Australian society.
Performer: Keyboards, Percussion, Exotic Wind and String Instruments, Studio Processing
Composer
Tony Lewis also appears on

Pacific Sound features the exotic sounds of original instruments designed and created by Colin Offord.
Performer: Bamboo Log Drum, Leg Logo, Percussive Windpipes