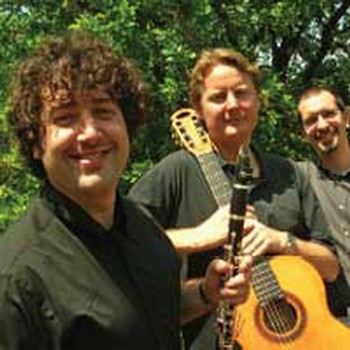 Trio Altrove 1.3
Trio Altrove 1.3 developed from the coming together of three musicians – Luciano Tristaino, Flute; Marcello Bonacchelli, Clarinet; Gisbert Watty, Guitar – with a special interest in classical and contemporary chamber music.
The trio also forms an extension of the duo for flute and guitar (Luciano Tristaino and Gisbert Watty), which began performing back in 1991. The trio's first concert took place in 2001 and consisted of a program of first performances of new compositions for this unusual instrumentation. This was followed by a substantial workshop and rehearsal phase that covered some of the most important works of the classical and modern repertoire.
The three musicians aim primarily for perfect harmony between sound colour and dynamics, maintaining a precise balance among the three instruments. The trio constantly broadens its repertoire through arrangements of historical compositions such as Beethoven's Serenade Op.8, Stravinsky's Easy Pieces, and Piazzolla's Le Grand Tango. More importantly, the trio commissions new works from around the world, approaching composers with an interest in the trio's particular instrumentation and with a willingness to explore new possibilities for chamber music.
Trio Altrove 1.3 is featured on the following titles

This recording brings together the Italian chamber group Trio Altrove 1.3 with six Australian composers of contemporary classical music: Steve Adam, Melanie Chilianis, Brendan Colbert, Philip Czaplowski, Paul Moulatlet, and Thomas Reiner.
Trio Altrove 1.3 also appears on

A retrospective collection of chamber works by leading Melbourne contemporary composer, Thomas Reiner. Features soloists from Monash University and ensemble re-sound.
Performer
Members of Trio Altrove 1.3