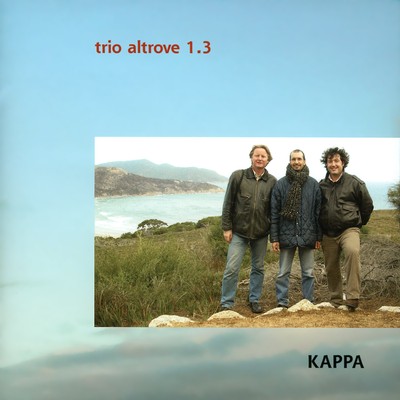 KAPPA
This recording brings together the Italian chamber group Trio Altrove 1.3 with six Australian composers of contemporary classical music: Steve Adam, Melanie Chilianis, Brendan Colbert, Philip Czaplowski, Paul Moulatlet, and Thomas Reiner.
Trio Altrove 1.3 first presented a concert of Australian work in 2003 at the Monash Centre in Prato, and then visited Australia in 2005 for a series of concerts in Sydney and Melbourne. Their visit included a live broadcast with the ABC at the Iwaki Auditorium in Melbourne. This CD grew out of the desire to present audiences with a recording of the Italian trio's engagement with Australian music.
Thomas Reiner - Time Sliding (2005)
for flute, clarinet, guitar and laptop
The timing and much of the material of this work is very much in the hands of the performers rather than prescribed by the composer. In other words, this piece is a structured improvisation. The work's sonic material is based on Curtis Roads's concept of the sound object, that is, sonic events of between several milliseconds and several seconds in duration. The composer invited a number of musicians to create sound objects with at least two trajectories, such as a gradual change of sound colour combined with a glissando from low to high. In the case of this recording, the authors of the sound objects are Marcello Bonacchelli, Melanie Chilianis, Ceri Hale, Eddie Markovican, Paul Moulatlet, Paul Todd, Luciano Tristaino,
Gisbert Watty and the composer.
Melanie Chilianis - Kappa (2005)
for flute, clarinet, guitar and CD
A Kappa (Ka . . . Pa) is a mischievous Japanese water demon, one of many suijin water deities) in Shinto mythology. They inhabit lakes, ponds, springs, wells and sewers and prey on horses, cattle and humans. The Kappa pulls the liver out of its victim through their anus or sucks their blood dry. It enjoys feasting on children best and it is children who are often warned about the Kappa as a caution against swimming in deep water or, to encourage the tradition of bowing. Upon meeting a Kappa, a human must bow deeply, thus encouraging the Kappa to bow and empty the water it carries in a depression in the top of its head. The water will spill to the ground and the Kappa will lose its life force and menacing potency.
Brendan Colbert - Spiel (1997/2005)
for flute, clarinet, guitar
Originally for flute, guitar and violin, Spiel is in eight short, linked sections - some lighter in mood, some darker, some playful, some a little more serious-that combine to create an intricate interplay of rhythms, colours and textures. This transcription for flute, Bb clarinet and guitar was arranged especially for Trio Altrove 1.3.
Philip Czaplowski - The Blackbird's Song of Peace (2003)
for flute
The work is dedicated to pianist Geoffrey Tozer, who inspired its composition by supplying the composer with the opening three bars: an actual blackbird call that Tozer heard in Tasmania in 1964. The music is based on a seven-note scale extracted from the blackbird's call, and the title also refers to the fact that composition of the work began on 20th March 2003, the first day of the US invasion of Iraq.
Thomas Reiner Trio/Quartet (2003)
for flute, clarinet, guitar and CD
Like Kappa, Trio/Quartet was written especially for, and is dedicated to, Altrove 1.3. The work juxtaposes atonal chamber music with recordings of spoken words (Melanie Chilianis and Celeste Reiner), bell sounds, electronic sounds, and samples of site recordings. Formally, the composition consists of three main instrumental sections, each one followed by a brief episode of recorded material, and an instrumental coda. The instrumental sections combine three types of performance timing: notes that are played as fast as possible, notes that are sustained for as long as possible, and conventionally notated note values.
Paul Moulatlet - Ellipsis (2000-1)
for clarinet
The work is based on a 12-tone series in which each note is assigned a numeric value. The series itself undergoes continuous transformation as a result of an arithmetic process. The sets of numbers generated by this process determine important musical parameters of the work. These parameters include the work's pitch materials, the rhythmic surface and the formal scheme of the work.
Steve Adam - HybriD (2002/5)
for flute, clarinet, guitar and live electronics
The work originated as a collaborative work between the Australian ensemble re-sound and the composer for multiple acoustic instruments, live computer processing and synthesis. The title of the piece reflects the relationship of its elements on various levels. The resources offered by the instrumentalists coupled with the mix of realtime computer generated sound offer the potential to achieve a sound world reflecting elements of both the real and virtual. In addition, the merging of performance data derived from each of the performers enables a mix of influences that result in the creation of sounds that are effectively hybrids. This subsequent version of the work varies from the original in that it has been altered to more effectively operate with the trio's instrumentation and inherent sonic characteristics.
Artist

Trio Altrove 1.3 developed from the coming together of three musicians – Luciano Tristaino, Flute; Marcello Bonacchelli, Clarinet; Gisbert Watty, Guitar – with a special interest in classical and contemporary chamber music.
Audio previews
Track Listing
Performers
Composers
Where to buy
KAPPA is available for download from the iTunes Music Store.
It's available for streaming through Apple Music.
KAPPA is available as as CD. It can be purchased online through Buywell Music or the Australian Music Centre which both offer secure online ordering.
Move CDs can be ordered through music retailers across Australia including Readings.
Product details
List price

$25.00 AUD

Total playing time

50 minutes 12 seconds

Release date

April 2007

Copyright

© 2007 Trio Altrove 1.3

Phonogram

℗ 2007 Move Records

Categories

Catalogue number

MD 3313

Barcode

EAN 9314574033137