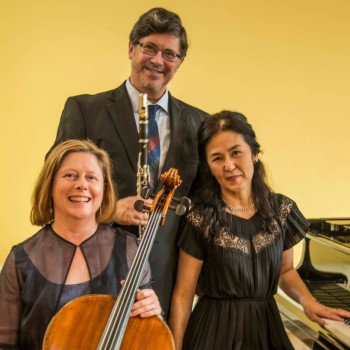 Trio Varie
Clarinettist Robert Schubert formed Trio Varie with cellist Virginia Kable and his wife, pianist Akemi Schubert in 2017.
Trio Varie is featured on the following titles

A series of catchy short pieces composed for clarinet and string quartet, and piano by Julian Yu. Often playful, these pieces are based on oddly familiar classical themes. Chinese folksongs, Dvorak and Mozart are also featured. The track titles will give you some idea of what to expect.
Members of Trio Varie

Robert Schubert is a Melbourne-based clarinettist and teaches woodwind at the Victorian College of the Arts.

Virginia Kable is an established Melbourne-based orchestral and chamber musician, having played with the Adelaide and Tasmanian Symphony Orchestras, the Adelaide Chamber Orchestra, Academy of Melbourne and as a regular guest over many years with the Melbourne Symphony and Orchestra Victoria.

Akemi Schubert is a sought after teacher, chamber musician and accompanist and is an official accompanist at the Melbourne Conservatorium of Music, Melbourne University.