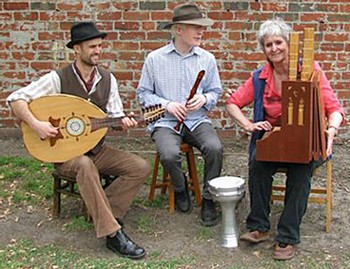 Troveresse
Troveresse is devoted to bringing medieval music to 21st-century audiences in a way which combines musical excellence with a vibrant, innovative presentation. Troveresse (Troves for short), combines vocal and instrumental music with visuals, stories, poetry and drama to bring the Middle Ages to exuberant life on stage.
The ensemble, founded in 2007, brings together excellent singers and instrumentalists with a range of backgrounds and a shared love for the music of the Middle Ages. Experience in Middle Eastern, Gypsy, Celtic, Kletzmer, Sephardic, and a range of other traditional musics from all over the world combine with classical and early music training to create a free and improvisatory style which is enticingly different.
Helen Dell (Director): voice, portative organ
Helen Dell is a classically-trained mezzo-soprano with an added tang provided by her many years of experience as a folk-singer. Both contribute to her talent for medieval music-making. She completed a music degree, specialising in performance, at the University of Melbourne where she studied singing with Bettine McCaughan. She went on to post-graduate studies in medieval music, receiving an MA in music at Monash in 2001 and a doctorate at Melbourne in 2006. She is still studying as a medievalist, now as a Research Fellow at the University of Melbourne. Helen is the author of a book on desire in medieval women's song, Desire by Gender and Genre in Trouvere Song (2008), based on her PhD research. She is currently researching a second book on listener responses to medieval music. Helen is passionately devoted to a wide range of musical repertoires, from the 12th to the 20th centuries and from most of western Europe. Helen has performed with ensembles and orchestras in Australia and overseas. Her greatest love is for all things medieval, especially music. In the 1980's she founded the first of a series of successful medieval music ensembles: Tre Fontane, one of whose programs received the following one-word review: 'superlative'. In 1998, this group metamorphosed into its second incarnation: Carnevale. In 2007 Helen founded, and now sings with and directs Troveresse, already making a name for creative and beautiful performances. Her other instrument is the portative organ. Helen has a gift for innovative programming and is hopelessly addicted to bringing wonderful music to audiences in new and exciting ways. For more about Helen's work visit her website at http://www.helendell.com
Alex Connolly: voice, recorder
Alex Connelly, one of a very musical family, first met and became enthralled by medieval music as a seven year old hearing music by Hildegard of Bingen. A gifted and versatile singer, he has sung in many university and church choirs. He also plays recorder in various experimental music groups around Melbourne, including Artists at play. This experimental work has contributed to his undoubted flair for improvisation. His other great musical passion is for traditional folk music from all over the world.
Will Thompson: voice, oud, guitar
William Thompson came to Australia in 1999. He enrolled in the VCA to study classical guitar with Anthony Field, graduating with a Bachelor of Musical Performance in 2003. Since then he has been teaching and performing in Melbourne. He founded the Taliesin Duo with flautist Bridgett Gwyer, playing Classical and Renaissance music at weddings, wineries and functions. In 2008 he joined the Orkeztra Glasso Bashalde, a gypsy band founded by Pietro Fine to play Balkan Kletzmar and Middle Eastern music, in which he performs on flute, oud and bouzouki. William is currently studying composition with Neil Kelly. He joined Troveresse in 2010, singing and playing oud, mandolin, recorder and flute.
Artist's website: home.vicnet.net.au
Troveresse is featured on the following titles

La vida es un pasahe: a life in Sephardic song presents a life, or various possibilities for life in the songs of the Sephardim, the Spanish-speaking Jews who were expelled from Spain in 1492 and made their way to various parts of the globe, taking with them a language, a culture and their magnificent music.
Performer