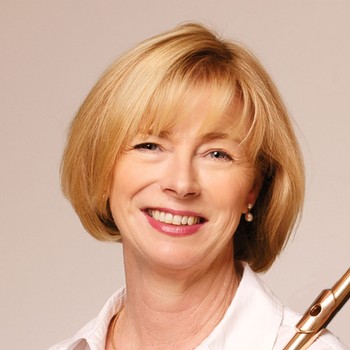 Virginia Taylor
Virginia Taylor has been described as one of the most exciting flautists to appear on the concert platform in recent years. She has recieved numerous illustrious awards, played with some of Australia's finest orchestras and toured extensively.
In 1983 spectacular performances at the Australian Flute Convention led to her being awarded the First Prize in the National Flute Competition. She has toured throughout Australia for the ABC and for Musica Viva (in conjunction with the Department of Foreign Affairs) to such exotic places as Saudi Arabia, India, Singapore and China, as well as having played in many solo recitals and recordings. She has performed concertos with many of the symphony orchestras throughout Australia.
In 1988 she was awarded the title of 'Young Performer of the Year'. This is the premier prize of all Australian competitions, which selects an outright winner form each of the other winners on all instruments, including voice. The competition receives national coverage on radio and television.
Virginia's CD entitled For Flute and Guitar released on the Tall Poppies label, with guitarist Timothy Kain, has been a best-seller. She is a member of the Austral Trio, comprising the unusual combination for flute, violin and guitar. The trio is resident at the Canberra School of Music and tours regularly both internationally and throughout Australia.
A keen commissioner of Australian compositions, Virginia has given world premiere performances, including works by Elena Kats-Chernin, Nigel Westlake and Mark Isaacs.
Virginia is currently Head of Flute at Queensland Conservatorium, Griffith University, and is also is Head of Flute at the Australian National Academy in Melbourne. Virginia is also Artistic Director of the bi-annual Australian Flute Festival.
Virginia Taylor is featured on the following titles

Music for flute and piano by Graham Jesse performed by Virginia Taylor (flute) an Simon Tedeschi (piano). These pieces cover a number of different genres including jazz and classical.
Performer: Flute

This is a fascinating and diverse program of works from the Southern hemisphere, born of the musical interests of both performers and the very nature of the flute and guitar medium. In the same way that folk songs and dances cross easily into salon and concert music in the repertoire for flute and guitar, these influences intersect comfortable with character pieces and poetic miniatures.
Performer
Virginia Taylor also appears on

Acclaimed artists present superb performances of the complete Bach Flute Sonatas.
Performer: Flute