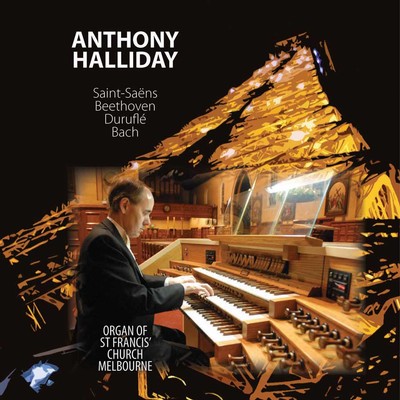 Anthony Halliday plays Saint-Saëns, Beethoven, Duruflé, Bach
Few Australian musicians come close to matching Anthony Halliday's versatile splendour. This latest of Halliday's all-too-few organ CDs emphasises his gifts in transcribing orchestral works. Featuring the organ of St Francis' Church Melbourne.
From Bach's time through to the middle of the 20th century, transcriptions of orchestral works were common. But more recently they lost favour with organists being considered beneath the organ's dignity. Such puritanism has now finally died unlamented, as ever more performers rediscover genuinely ingenious adaptations of symphonic – or operatic – music in organ terms. But no-one now alive makes such adaptations better than Halliday.
Artist

After initial studies at The University of Melbourne, Anthony Halliday continued at The Royal College of Music and The Royal College of Organists in London. He has received many awards and prizes including a Churchill Fellowship, all the Fellowship prizes at the Royal College of Organists, and was Commonwealth Winner of the ABC Concerto Competition.
Press quote
"Those who some months back, in Melbourne's Town Hall, heard Halliday's burn-the-floor solo arrangement of the Saint-Saëns Organ Symphony's finale might well wonder if this CD can do it justice. Fear not: it does. From the ferocious C major opening to the dazzling flourishes at the end, Halliday is, in effect, his own orchestra. He reveals a colouristic range that far too many non-French organists seem incapable of achieving or, worse still, of wanting. For this we can partly credit the instrument at his disposal (made by Québec's Casavant firm). Even so, lesser artists could take the same machine and render it aurally indistinguishable from a $100 burp-box. Halliday is at once virtuoso and probing musician.
 
Equally effective in its quiet way is his version of the Emperor Concerto's middle movement. Beethoven himself, who admitted the role of chorales in his inspiration for this music, would have approved. Also included is a tiny Beethoven minuet – originally not for organ but for Spieluhr (musical clock) – which suggests Haydn rather than the Emperor's creator. Halliday gives it a delightful variety of tone.
 
It should go without saying that he has mastered Bach's stupendous C minor Passacaglia and Fugue, taking a daringly slow tempo for the former, and avoiding the faintest hint of anticlimax in the latter. The Maurice Duruflé Suite (1933) suits Halliday's timbral strengths, and above all in the Suite's Toccata – often heard in isolation – he transports listeners from the Yarra to the Seine. Excellent engineering and well-written notes complete a pretty wonderful package."
— R J Stove,
Track Listing
Performers
Composers
Where to buy
Anthony Halliday plays Saint-Saëns, Beethoven, Duruflé, Bach is available as as CD. It can be purchased online through Buywell Music or the Australian Music Centre which both offer secure online ordering.
Move CDs can be ordered through music retailers across Australia including Readings.
Product details