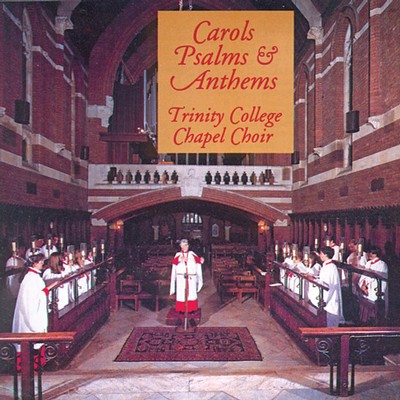 Carols Psalms and Anthems
Under the direction of Professor Emeritus Peter Godfrey, CBE the Trinity College Chapel Choir performs a stunning selection of rarely heard Carols, Psalms and Anthems
Under the direction of Professor Emeritus Peter Godfrey, CBE the Trinity College Chapel Choir performs a stunning selection of rarely heard Carols, Psalms and Anthems
Artist

Calvin Bowman is acknowledged to be one of Australia's finest young musicians. He is well known as an outstanding musician who strives to attain nothing less than perfection.
Track Listing
1 Tomorrow shall be my dancing day John Gardner (b. 1917)
2 Out of your sleep Richard Rodney Bennett (b. 1936)
3 Esta noche Andrew Carter (b. 1932)
4 A spotless rose Herbert Howells (1892-1983)
5 The shepherds' cradle song arr. by Charles Macpherson (1865-1941)
6 Three Kings in great glory Colin Brumby (b. 1933)
7 There is no rose of such virtue John Joubert (b. 1927)
8 In dulci jubilo arr. by Robert Lucas Pearsall (1795-1856)
Three Madrigals Robert Lucas Pearsall (1795-1856)
9 Great God of love
10 Who shall win my lady fair
11 Lay a garland
12 Psalm 23 Dominus regit me Chant by H. Parry (1848-1918)
13 Psalm 93 Dominus regnavit Chant by P. Godfrey (b. 1922)
14 Psalm 130 De profundis Chant by H. Walford Davies (1869-1941)
15 O clap your hands together Orlando Gibbons (1583-1625)
16 In manus tuas Calvin Bowman (b. 1972)
17 Cantantibus organis Peter Philips (1561-1628)
18 Popule meus Lajos Bardos (b. 1899)
19 O magnum mysterium Tomas Luis de Victoria (c. 1540-1611)
20 Introit for Trinity Sunday Nicholas Oliver Edwards (b. 1968)
21 Euge caeli Thomas Tallis (c.1505-1585)
22 I was glad Hubert Parry (1848-1918)
Where to buy
Carols Psalms and Anthems can be purchased online through Buywell Just Classical or the Australian Music Centre which both offer secure online ordering.
This title is also available in (or can be ordered through) many fine music retailers across Australia, including Thomas' and Readings.
Product details