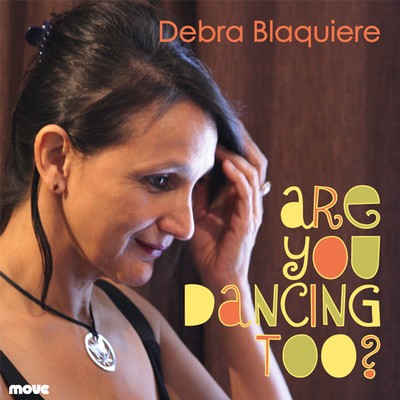 Are you dancing too?
As a slave to lyrics, this album is a mixture of standards both pop and jazz with great lyrics, and three original songs written from the heart. Loving jazz standards I find it very hard not to record Gershwin, Rogers and Hart, Porter, Berlin, as through them and the American songbook I have honed my craft.
The title track "Are You Dancing Too?" was penned after seeing a play about people with Down's Syndrome. At one point in the play the characters are dancing all awkward and goofy. While dancing the actors dropped their Down's character roles, a huge mirror ball appeared and they became regular people, in love, elegant, gliding across a dance floor in 3 / 4 time. This had a profound impact on me as I was shown how they see themselves, just as we see ourselves. I have recorded with a small group of musicians. As with my previous albums I like to create space for them, to create their magic. I wish I could find a way to acknowledge the magic properly, and not diminish how important their contribution is. Thank you!
- Debra Blaquiere
Shine On Me was performed by the Glory Bound Groove Train; formed in 1997 under the musical directorship of performer/arranger Linda Calgaro. Inspired by the African-American vocal tradition, GBGT perform a repertoire of African-American Gospel and Gospel inspired music. Glory Bound Groove Train is an acappella choir of 18 spirited voices, with edge.
Artist

Sydney based vocalist-songwriter Debra Blaquiere has earned a reputation as an independent artist winning over local fans with her uncanny ability to stake new claims on contemporary pop tunes, and interpretations of gorgeous jazz standards.
Audio previews
Track Listing
Composers
Where to buy
Are you dancing too? is available for download from the iTunes Music Store.
It's available for streaming through Spotify and Apple Music.
Are you dancing too? is available as as CD. It can be purchased online through Buywell Music or the Australian Music Centre which both offer secure online ordering.
Move CDs can be ordered through music retailers across Australia including Readings.
Product details
List price

$25.00 AUD

Category

Catalogue number

MCD 400

Barcode

EAN 9314574040029