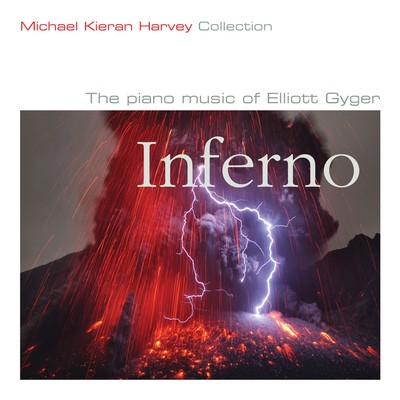 Inferno
Michael Kieran Harvey plays two works by composer Elliott Gyger. Michael says: "They bookend Elliott's extraordinary musical universe – which, like Messiaen, appeared fully-formed at a precocious age, to extend in profundity and depth throughout an already long and stellar career."
Inferno (2013) is an hour-long cycle for solo piano written for Michael Kieran Harvey. Powerful images from Dante's vision of Hell provide programmatic starting-points for a series of pieces whose internal logic is nonetheless purely musical. The vocabulary imprisons powerfully expressive gestures within tightly controlled structures, creating Lisztean tableaux of virtuosity and damnation influenced by Messiaen, Carter, Ligeti, Birtwistle and other giants of the post-war avant-garde.
The cycle consists of nine Etudes for the nine Circles of Hell, framed by four brief Interludes corresponding to the Rivers of Hell, together with a Prelude and Postlude. Each Etude explores a different subset of the piano's range, moving gradually downward and alternately expanding and contracting across the cycle. All four Interludes, by contrast, traverse the same harmonic field spanning the entire range of the instrument, as well as the same metrical structure. Another recurring element is the transposition of Dante's distinctive terza rima (three-line stanzas with interlocking end-rhymes: aba bcb cdc …) onto musical parameters.
Compass Variations (1993)
was written for Simon Docking. In navigational terminology, the "variation of the compass" is the difference between true North and magnetic North. As one travels large distances across the world, this discrepancy varies continuously, from zero to a maximum of 180° at certain places in the Arctic and Antarctic.
The idea of gradual change, of the successive divergence and convergence of the compass needle on true North, is mirrored in the large-scale shape of Compass Variations in a number of ways: the lengths of sections alternately contract and expand, and the density of texture fluctuates between simple and complex. The tempo structure – starting at a moderate tempo and moving outwards to the extremes, so that the last two sections are the slowest and fastest respectively – could also be likened to a wildly swinging compass needle.
However, the two words in the title also have more specifically musical connotations. There is a long and illustrious tradition of variation sets for keyboard, from the Fitzwilliam Virginal Book onward. However, like other 20th-century examples of the form (notably the key masterpieces by Webern and Copland), this work comprises explorations of different ways of using the piano, rather than primarily variations on a theme.
Compass Variations focuses on two characteristics unique to the piano. Firstly, it exploits the whole of the instrument's 88-note range (or "compass"), using the extreme high and low registers not merely for colour but as an integral part of the musical fabric. At some points, a single melodic line spans several octaves, and contains huge leaps from one note to the next – a melodic style of which no other instrument is capable. And secondly, each of the work's eleven variations calls for a different style of "touch", that elusive quality which is so central to the art of playing the piano. While the musical material is stylistically consistent, the manner of playing ranges widely, "encompassing" keyboard styles from Bach and Chopin, through Liszt and Scriabin, to Webern, Prokofiev, Takemitsu and Boulez.
Artist

Michael Kieran Harvey is one of the foremost interpreters of contemporary piano music of his generation. A champion of Australian music and himself a composer, he regularly commissions new Australian music and has performed with Australia's leading contemporary music ensembles and orchestras.
Track Listing
Inferno Elliott Gyger

Prelude
Interlude I
Etude I
Etude II
Etude III
Etude IV
Interlude II
Etude V
Etude VI
Interlude III
Etude VII
Etude VIII
Etude IX
Interlude IV
Postlude
Compass Variations Elliott Gyger
Performers
Composer

Elliott Gyger was born in Sydney, and has been writing music since about the age of ten. He holds degrees in composition from the University of Sydney and Harvard University. His composition teachers have included Ross Edwards, Peter Sculthorpe, Bernard Rands and Mario Davidovsky. His compositional and research interests include the creation of a purely musical sense of drama and narrative, and the multilayered interplay of music and text.
Where to buy
Inferno can be purchased online through Buywell Just Classical or the Australian Music Centre which both offer secure online ordering.
This title is also available in (or can be ordered through) many fine music retailers across Australia, including Thomas', Discurio and Readings.
Product details
List price

$25.00 AUD

Release date

2014

Copyright

© 2014 Move Records

Phonogram

℗ 2014 Move Records

Categories

Catalogue number

MD 3376

Barcode

EAN 9314574337624