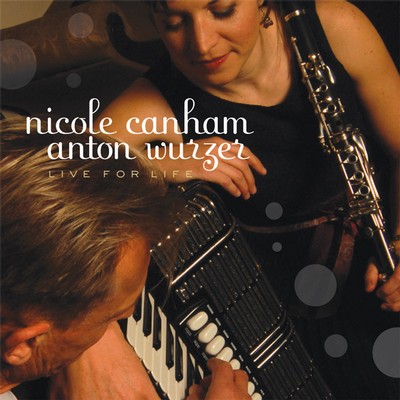 Live for Life
The extremely popular disc from clarinettist extraordinaire Nicole Canham and accordion aficionado Anton Wurzer, is available here.
Clarinettist Nicole Canham who appears on the Move discs 'A Year in Paris' MCD 288 and 'This is Clarity' MCD 306 has joined forces with Accordionist Anton Wurzer who makes his debut here on the Move label.
Artist

Nicole's professional experience is extensive and varied, including orchestral work with Opera Australia, the Tasmanian and Canberra Symphony Orchestras, the Canberra Chamber Orchestra, the Canberra Choral Society and for the Australian and Kiev Ballet Canberra seasons.
Track Listing
Revalite (Colombo & Di Duca)
Accordeon Samba (Jean Peyronnin)
Bandoneon (Astor Piazzola)
Ballade Nocturne (Andre Astier)
Move Tango (Anton Wurzer)
Convoitise (Colombo & Di Duca)
Valse a Deddy (Emile Carrara)
Zita (Astor Piazzola)
La Varenne (Louis Ferrari)
Avec Regret / Deception (Marais / Astier & Denoux)
Florette (Andre Astier)
Live for Life (Francis Lai)
Where to buy
Live for Life is available as as CD. It can be purchased online through Buywell Music or the Australian Music Centre which both offer secure online ordering.
Move CDs can be ordered through music retailers across Australia including Readings.
Product details
List price

$25.00 AUD

Category

Catalogue number

MCD 319

Barcode

EAN 9314574031928