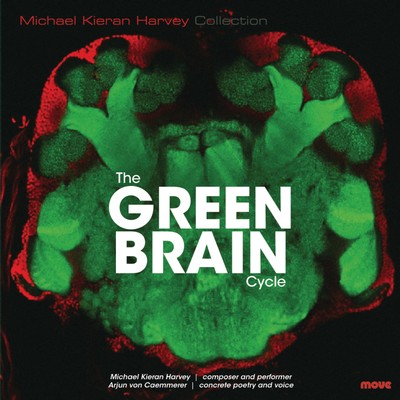 The Green Brain Cycle
This is Michael Kieran Harvey's 92 minute multi-instrument solo extravaganza inspired by Frank Herbert's 1966 futuristic ecological novel "The Green Brain", with amusing concrete poetry by Arjun von Caemmerer.
The work takes inspiration from Frank Herbert's 1966 futuristic ecological novel The Green Brain, in which insect intelligence evolves leading to a resistance against the devastating impact of humans on the biosphere.
The work is in 20 movements for keyboards and piano, each named after major insect genera, and is accompanied by a series of 'concrete' poems by poet Arjun von Caemmerer.
By including this narrative anchor and integrating key passages from the book, (spoken in a strange techno-insect voice), the work provides an entry point for listeners to engage with the intense and seemingly discordant music of Harvey. Indeed, the quick movements, sharp clangs and odd mix of electronic sounds prompted imaginative visions of insect movement and debate.
Brigita Ozolins worked collaboratively with Harvey and von Caemmerer to design the set for the world premier performance of The Green Brain Cycle at Mona Foma in January 2018. It comprised poems in gold lettering on the walls, faux lawn, hundreds of small plastic insects, live plants and trees, shiny gold beanbags and a giant green glowing orb that was suspended almost threateningly over the grand piano. The set provided a good balance between the familiar, futuristic and otherworldly, creating a comfortable dramatically lit jungle-like atmosphere, which helped the audience relax into the performance.
Artist

Michael Kieran Harvey is one of the foremost interpreters of contemporary piano music of his generation. A champion of Australian music and himself a composer, he regularly commissions new Australian music and has performed with Australia's leading contemporary music ensembles and orchestras.
Audio previews
Track Listing
Performers
Where to buy
The Green Brain Cycle can be purchased online through Buywell Just Classical or the Australian Music Centre which both offer secure online ordering.
This title is also available in (or can be ordered through) many fine music retailers across Australia including Readings.
Product details
List price

$25.00 AUD

Release date

July 2018

Copyright

© 2018 Move Records

Phonogram

℗ 2018 Move Records

Categories

Catalogue number

MD 3434

Barcode

EAN 9314574343427