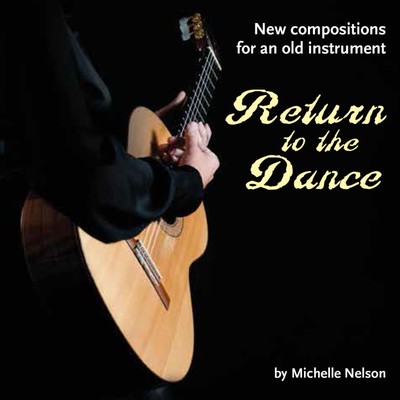 Return to the Dance
Guitarist-composer Michelle Nelson has created a new album of guitar works inspired by the traditional association between guitars and dance, from reflections of the Spanish 17th Century guitar style, through to 1970s Rock and on to the current EDM influence.
Includes the award-winning The Guitarist's Bach, a homage to JS Bach in the style of his Lute suites, created for the modern EADGBE guitar.
"Guitars and dance go together like two sides of a coin; from the Spanish guitarists of old to the Rock era and on to the Pop world of the 21st Century."
"As a guitarist I have innately understood this connection. As a composer I have often mused on how modern art-music strayed so far from mainstream taste during the 20th Century. Perhaps the best way for it to re-connect in the new digital world is by a return to the dance." - Michelle Nelson
Artist

Michelle Nelson is a composer, guitarist and creative educator committed to developing instrumental works that are contemporary but also draw inspiration from traditional composition practice.
Audio previews
Track Listing
Performers
Where to buy
Return to the Dance can be purchased online through Buywell Just Classical or the Australian Music Centre which both offer secure online ordering.
This title is also available in (or can be ordered through) many fine music retailers across Australia, including Thomas' and Readings.
Product details
List price

$25.00 AUD

Total playing time

40 minutes 53 seconds

Release date

December 2015

Copyright

© 2015 Michelle Nelson

Phonogram

℗ 2015 Move Records

Category

Catalogue number

MCD 531

Barcode

EAN 9314574053128