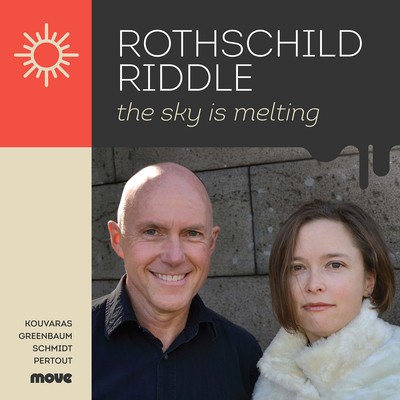 The sky is melting
Marianne Rothschild and Glenn Riddle formed as a duo in 2004, recording Stuart Greenbaum's Sonata for Violin and Piano for the CD Mercurial. Broadcast on ABC classic FM, ABC Radio National, 3MBS FM and Radio New Zealand, they have also premiered and recorded many works by Melbourne composers including Broadstock, Greenbaum, Pertout, Schmidt and Kouvaras.
In recent years, they have appeared in concert at The Edge (Federation Square), Montsalvat, ACU, Melba Hall, Wyselaskie Auditorium, Waikato University (NZ) and Auckland. Notably, they present major works, such as the Franck Sonata, alongside new work. Tradition interwoven with innovation. This disc features music written for them by Melbourne composers. Music that is soulful, intriguing and rewarding. A snapshot of Australian musical voices at the turn of the millennium, brought to life in vivid performances (beautifully captured at the ABC) that reflect the times we live in.
Artists
Press quotes
"In The Sky is Melting, Linda Kouvaras responds to the heat of the Australian summer - an idea translated into sound with great success by Australian duo Marianne Rothschild (violin) and Glen Riddle (piano), whose new album is an impressionistic journey taking in a range of compositions from contemporary Melbourne." ★★★½
— Stephanie Eslake, Limelight Magazine
"Rippling and cascading runs in the piano reminiscent of Reflections in the Water by Debussy, introduce the first track. The CD is named after this piece - The Sky is Melting. Linda Kouvarous [SIC] also composed the major item, the Bundanon Sonata whilst she was artist in residence at the Arthur and Yvonne Boyd estate bequeathed to the nation. The track listing describes the work as a Suite for Violin and Piano and this might be a better description. Each movement bears a title relating to Bundanon. The first, Pulpit Rock, is reminiscent of Debussy's Sunken Cathedral reflected in the slow moving piano chords. Again, The Rive Changes is very influenced by French Imporssionism. A jazz waltz follows and the dial movement begins with a mol to perpetuo opening with a very meditative ending. These Melbourne Composers' works are stylishly performed by Marianne Rothschild and Glen Riddle. Stuart Greenbaum is represented by Occasional Pieces and William Kames Schmidt but the very effective Argentinian Etching. Also highly effective, exhibiting a Japanese influence, is Sonus Dulcis by Adrián Pertout."
— Andrew Lorenz, AUSTA Magazine (Stringendo)
"Here's a window into a corner of the country's musical composition world, one that is centred around Melbourne. Both performers are locals: violinist Rothschild studied at the Victorian College of the Arts and the Australian National Academy of Music and has freelanced round the country; Riddle is currently Lecturer in Keyboard at Melbourne University's Conservatorium of Music and a pedagogical force in the national music sphere. Much of what they present on this now somewhat dated disc (released in 2014) is bound up with their collaboration; in fact, the major work on this recording, Linda Kouvaras' Bundanon Sonata for Violin and Piano, was written for the duo. Andrian Pertout's Sonus Dulcis – a construct that the composer keeps on re-framing – was arranged for these executants, who also gave the premiere performance of William James Schmidt's Argentine Etching.
Kouvaras has provided both the opening (and title) piece of this CD, as well as the substantial sonata. Both have connections with the composer's stints as artist-in-residence at the Shoalhaven River estate of Arthur and Yvonne Boyd. In the brief initial vignette, Kouvaras gives the piano high arpeggio patterns to offset a slow-moving violin melody which suggests the heat of mid-day at Bundanon, although the images come courtesy of an impressionist sound-world so that the pictured countryside has a Gallic tang complete with whole-tone chords and little rhythmic variety.beyond a 4/4 pulse. Some double-stops around the 4:20 mark make a small change of diet, but the last pages move into a more satisfying atmospheric area with the violin meandering in desultory style above a stolid piano part, this combination making a fair proposition for sonic heat exhaustion.
Stuart Greenbaum's six Occasional Pieces are just that: bagatelles written for two specific birthdays, as well as a birth-day, a funeral, a marriage and the last of the set (and longest) serving as a wedding gift. How to be in the world makes for pleasant listening, Rothschild's violin operating in a high register for the most part, with inescapable shades of Vaughan-Williams' lark, some small jazz interpolations disrupting the idyllic sweetness. The lament of Life Cycles emerges as a violin solo; a slowly striding line, generally diatonic in matter, punctuated by some Celtic-style skirling and a series of 'snaps'. For Alette begins with brisk pizzicato that moves to a rising scale motive with Riddle's eloquent piano doubling the string line until the ternary shape is finished off with a sparser version of the opening gestures. Ideas follow each other in quick succession during The 4th Saturday in April piano solo, which offers no real development but maintains an optimistically major tonality, appropriate for this small-scale epithalamium. Another violin solo, Curves on the Great Ocean Road, proposes a pattern of self-reflecting turns, nowhere near as unsettling as the real thing, but its central section has intimations of the drive's rugged terrain. Finally, The Lake and the Hinterland revisits the British early 20th century folk music arena with a broad tune treated in turn by both instruments, a dour middle interlude, before a reversion to the Midsomer landscape. Some spikiness interferes with the prevailing harmonic sweetness but the piece concludes in an unambiguous D Major.
Better known to me as a pianist, William James Schmidt avoids the temptation to do a Piazzolla in his Argentinian Etching, although you can hear a plethora of Latin suggestions as well as irrepressible murmurs of a the dansant. It maintains a steady common time pulse in a combination march-tango. Following the crowd in this disc's ternary form feast, Schmidt stops for a gentle meander, charming if aimless, which comes to a mutually reflecting and reinforcing climactic point before the duo hurtles back to the dance where the cross-rhythms and syncopations become pronounced and the dynamic tension heightened.
Sonus Dulcis by Andrian Pertout has a Japanese modal foundation, yet it's not as simply utilised as it would have been in less interesting hands. On occasions, Rothschild makes sounds that could suggest a bowed lute but, apart from some pizzicato, a dash of col legno and a hefty sprinkling of piano movement in fifths, the Orient is hinted at more than imitated. At about the 3:30 point, the unlikely spirit of Spain and de Falla emerges, interrupted by a violin cadenza loaded with Japanese folk colour, before the Hispanic/Nipponese combination returns in a sort of 6/8 gigue finale. Most of the works that Rothschild and Riddle perform can be taken at face value; this piece offers more of an interpretative challenge.
The Kouvaras sonata, in four movements, has its feet firmly planted in the Boyd estate's landscape. The substantial opening, Pulpit Rock, is a sonic view of Boyd's paintings focused on this geological formation with the violin as unabashed preacher while Riddle underpins with solid, pillar-like chords. The composer uses brief phrases from the Ein feste Burg chorale and, on tremolo violin, a fragment from Mahler's Des Antonius von Padua Fischpredigt song to add a bit of European context to the abstract sermon that this landscape advances. But the portentous keyboard chords wear out their usefulness well before the movement's clangorous conclusion where the violin alternates high and low notes as a gravity-loosening device.
For her second movement, The River Changes, Kouvaras begins with a floating violin line, supported by a supple ripple of piano figuration. Rothschild generates a clean unstressed arch, her vibrato well-regulated throughout what amounts to a meditation on the Shoalhaven, revisited after a decade-long gap. As the sonata's scherzo, Ballad of the Singleman's Hut takes a syncopated waltz format; not that distracting in its soundscape surroundings but with something contrived about its shape, possibly in the rhythmic basis which lacks consistency, as though the intention is to unsettle the listener by substituting the incomplete for the spectral.
The sculptures at Bundanon, some of which are in trees, gave Kouvaras the impetus for Earth Art Could Fall from the Skies which jumps from one block of activity to another, bringing to this listener's mind the formal practices of Carl Nielsen. The action ceases at about 3:22 for an interlude of high tessitura violin and low bass movement – a bush silence passage – and then the rapid-fire action returns with the opening repeated patterns revisited. A series of smash-and-grab piano chords with violin top notes bring this considerable composition to an affirmative end.
While the performers demonstrate a fine precision and finish in their work, neither Rothschild nor Riddle is greatly overtaxed by much on this CD, the Kouvaras sonata offering fair but not taxing challenges. What makes the collection surprising is the conservative nature of most of the compositions. Schoenberg said, 'There is plenty of good music to be written in C Major'; much of the work to be heard here could be used as an attempt to substantiate the thrust of that statement. Not that this adoption of neo-orthodoxy in compositional parameters should be decried; it's just something that takes me aback – not for the first time and probably not the last."
Read full review
— Clive O'Connell, O'Connell the Music
Audio previews
Track Listing
The Sky Is Melting Linda Kouvaras 5:41

Occasional Pieces Stuart Greenbaum

How to be in the world 2:36
Life Cycles 2:59
For Alette 2:49
The 4th Saturday in April 2:13
Curves in the Great Ocean Road 2:26
The Late and the Hinterland 5:01
Argentinian Etching William James Schmidt 6:57
Sonus Dulcis Andrián Pertout 7:23

Bundanon Suite for Violin and Piano Linda Kouvaras

Pulpit Rock 10:04
The River Changes 5:52
Ballad of the Singleman's Hut 3:53
Earth Art Could Fall from the Skies 8:31
Performers
Composers

Linda Kouvaras is a pianist, composer and musicologist, with particular interests in contemporary music. She has recorded, commissioned, and premiered numerous contemporary Australian works for piano, performing extensively in city and regional centres.

The Stuart Greenbaum sound has overt connections to jazz, pop and minimalism but is equally grounded in the Western art music tradition.

Andrián Pertout was born in Santiago, Chile, 17 October, 1963, and lived in Gorizia, Northern Italy for several years before finally settling in Melbourne, Australia in 1972. In 2007, he completed a Doctor of Philosophy (PhD) degree at the University of Melbourne on Tweddle Trust, Australian Postgraduate and Melbourne Research scholarships, studying composition under the guidance of Brenton Broadstock.
Where to buy
The sky is melting is available for download from the iTunes Music Store.
It's available for streaming through Apple Music.
The sky is melting is available as as CD. It can be purchased online through Buywell Music or the Australian Music Centre which both offer secure online ordering.
Move CDs can be ordered through music retailers across Australia including Readings.
Product details
List price

$25.00 AUD

Total playing time

66 minutes 25 seconds

Release date

October 2014

Copyright

© Marianne Rothschild & Glenn Riddle

Phonogram

℗ 2014-10

Category

Catalogue number

MCD 505

Barcode

EAN 9314574050523