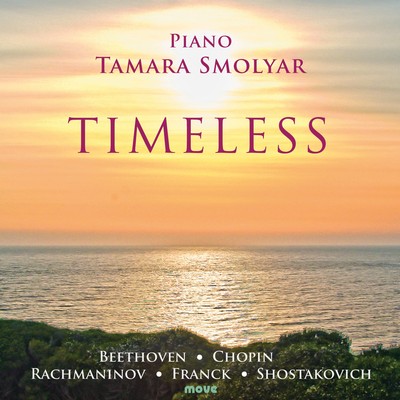 Timeless
The title "Timeless" reflects Tamara Smolyar's desire to offer a personal interpretation of these classic pieces and creates something for her family and others to enjoy. Moreover, the title echoes the beauty of music's ability to travel across generations and cultures to reach new audiences. Hopefully, you can be inspired by these compositions as well.
She chose the pieces on this CD for several reasons. The music is a natural fit with her pianistic temperament and she has a genuine connection with the compelling originality of the pieces.
These timeless compositions have been part of her life since she started playing piano, and have formed a 'rite of passage' for generations of pianists around the world. As a young Russian pianist, she could not avoid the towering reputation and adornment of Rachmaninov's and Shostakovich's compositions, the grandeur of Franck or the excellence of Beethoven and Chopin.
Artist

Pianist Tamara Smolyar has recorded for Russian Radio and Television, 3MBS FM, ABC Classic FM, and has appeared on SBS and China's National Television. She is currently coordinator of keyboard at the School of Music-Conservatorium, Monash University.
Audio previews
Track Listing
Performers
Composers
Where to buy
Timeless can be purchased online through Buywell Just Classical or the Australian Music Centre which both offer secure online ordering.
This title is also available in (or can be ordered through) many fine music retailers across Australia, including Thomas' and Readings.
Product details
List price

$25.00 AUD

Total playing time

56 minutes 49 seconds

Release date

January 2014

Copyright

© 2014 Tamara Smolyar

Phonogram

℗ 2014 Move Records

Category

Catalogue number

MD 3372

Barcode

EAN 9314574337228