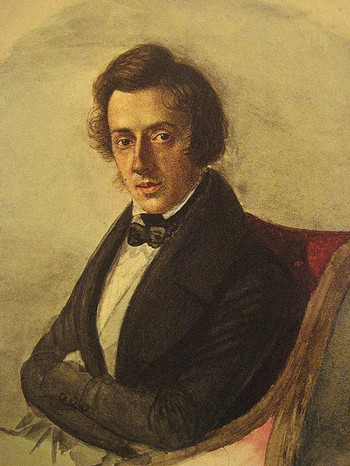 Frédéric Chopin
Frédéric François Chopin was a Polish composer, virtuoso pianist, and music teacher. He was one of the great masters of Romantic music and has been called "the poet of the piano".
Chopin was born in Żelazowa Wola, a village in the Duchy of Warsaw. A renowned child-prodigy pianist and composer, he grew up in Warsaw and completed his musical education there. Following the Russian suppression of the Polish November 1830 Uprising, he settled in Paris as part of the Polish Great Emigration. He supported himself as a composer and piano teacher, giving few public performances. From 1837 to 1847 he carried on a relationship with the French woman writer George Sand. For most of his life, Chopin suffered from poor health; he died in Paris in 1849 at the age of 39.
The vast majority of Chopin's works are exclusively for solo piano, the most notable exceptions being his two piano concertos. His compositions are technically demanding but emphasise nuance and expressive depth. Chopin invented the musical form known as the instrumental ballade and made major innovations to the piano sonata, mazurka, waltz, nocturne, polonaise, étude, impromptu, scherzo, and prélude.
Frédéric Chopin is featured on the following titles

Having successfully tackled the complete etudes of Chopin, Ian Holtham turned his attention to the composer's complete ballades and scherzi, undoubtedly amongst his most individual and characteristic works.
Composer
Compositions by Frédéric Chopin also appear on