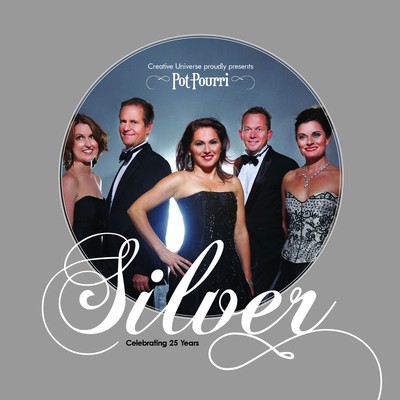 Silver - celebrating 25 years
In 2012 one of Australia's most-loved groups, Pot-Pourri, is celebrating 25 years! Silver is the group's seventh recording and celebrates its 25th Anniversary.
The songs tell simple and epic stories of love, loss, hope, courage, mystery and madness. From silver moons to fields of gold, pigeons to phantoms, Puccini to Sting, darkness to light ... There is music to open your heart, touch your soul and stir your senses ... a true pot-pourri which blends contemporary classics, a touch of opera, a dash of Broadway and lashings of the best music ever written.
Highlights include stunning arrangements of Cohen's Hallelujah and Sting's Fields of Gold, songs from Les Miserables, Phantom of the Opera, Into the Woods, Carousel, Madam Butterfly, The Pearl Fishers, Turandot and some unique gems such as Poisoning Pigeons in the Park and Stars and Moon.
Silver was launched at a major concert at Melbourne Town Hall on Sunday 27th November. Pot-Pourri will also present national and international concerts and performances at a range of special events throughout 2012.
Artist

Creative Universe is thrilled to present fabulous Melbourne five-some Pot-Pourri. Continuing to enchant audiences around the world with their inspiring and unique sound, much-loved repertoire of opera, music theatre and song and their inimitable warmth and wit, Pot-Pourri celebrates 25 Years in 2012.
Track Listing
Performers
Composers
Where to buy
Silver - celebrating 25 years is available as as CD. It can be purchased online through Buywell Music or the Australian Music Centre which both offer secure online ordering.
Move CDs can be ordered through music retailers across Australia including Readings.
Product details
List price

$25.00 AUD

Total playing time

70 minutes 32 seconds

Release date

October 2011

Copyright

© 2011 Pot-Pourri

Phonogram

℗ 2011 Pot-Pourri

Category

Catalogue number

MCD 459

Barcode

EAN 9314574045925