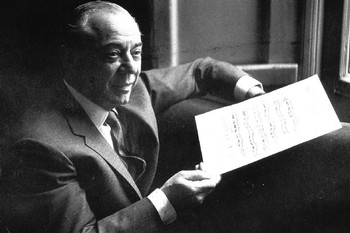 Richard Rodgers
More prolific than George Gershwin (who died at 38), more popular than Stephen Sondheim and esteemed among musicians of all genres. Collectively, his catalogue of songs reads like a treasury of classics from American musical theater's golden age.
Rodgers published more than 900 songs during a career that spanned more than five decades.
There are the witty, wistful gems he wrote with early collaborator Lorenz Hart - My Funny Valentine, My Romance, Where or When, With a Song in My Heart and Bewitched, Bothered and Bewildered, to name a few - and the wealth of beloved material that he and Hammerstein put together for such groundbreaking shows as Oklahoma!, Carousel, The King and I and The Sound of Music, all of which became classic films as well as highly successful stage productions. An estimated 4,000 revivals of Rodgers musicals are produced around the world every year.
Compositions by Richard Rodgers appear on