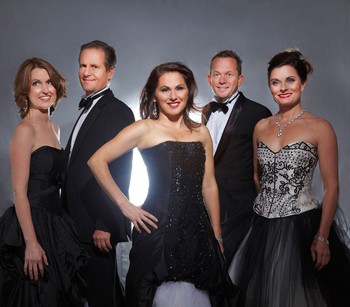 Pot-Pourri
Creative Universe is thrilled to present fabulous Melbourne five-some Pot-Pourri. Continuing to enchant audiences around the world with their inspiring and unique sound, much-loved repertoire of opera, music theatre and song and their inimitable warmth and wit, Pot-Pourri celebrates 25 Years in 2012.
Named Australian Event Entertainers of the Year, Pot-Pourri presents their unique and innovative blend of music theatre, cabaret, opera, magic, didgeridoo and comedy in a superbly entertaining show. With 40 overseas tours and seven CDs, this group receives a standing ovation at every performance.
Twenty-five years ago Tania de Jong and Jonathan Morton founded Pot-Pourri, as "The Hums of Pooh". Since then, Pot-Pourri has continued to expand and go from strength to strength. Pot-Pourri was selected as one of the companies to represent Australia internationally for the Sydney Olympic Games and was invited to perform at the World Expo 2000 in Hannover. They also performed as guest artists with the Seoul Symphony Orchestra in Korea, a sell-out season at The Famous Spiegeltent at the Melbourne Festival and were the only Australian act invited to perform for the International Music Theatre Festival in Korea and the first Australian act invited to perform at the Macau Concert Hall.

Recent tours include concerts and seasons in Japan, Taiwan, Hong Kong, China, Malaysia, Italy, New Zealand, San Francisco and Singapore.
"I guess what has kept us going has been the love, friendship and respect between us," says founder, Tania de Jong. "The magic of singing harmonies and expressing our creativity with some other wonderful artists, the opportunity to be master and mistress of our own destiny and the connection, feeling and joy from our audiences; allowing them to transcend reality and experience the emotion and passion of the music and the stories."
The current performers with Pot-Pourri include two couples: Tania de Jong and Jonathan Morton, and Rebecca and Jon Bode. Together, with pianist Rebecca Chambers, Pot-Pourri continue to delight fans with their electric performances and interpretations of classics in contemporary and traditional songs.
Tania de Jong AM - Soprano
Tania de Jong AM is the inspiration, co-founder and artistic director of Pot-Pourri and of Music Theatre Australia. Tania is considered one of Australia's most talented sopranos having performed with the Victoria State Opera and as a soloist with a number of orchestras. She founded Creativity Australia and Creative Universe to inspire people to find their voice and to improve wellbeing, engagement and innovation in organisations and communities. She has a Bachelor of Law

(Honours) from the University of Melbourne and is a graduate of Victorian College of the Arts. Her numerous awards include Ernst and Young Australian Social Entrepreneur of the Year as Founder of The Song Room. She was appointed a Member of the Order of Australia in 2008 and named Brainlink Woman of Achievement in 2009. Tania consults and presents keynote speeches to multinational organizations on creative leadership and innovation and works with a range of migrants, jobseekers and disadvantaged communities to build social capital through the acclaimed "With One Voice" choir social inclusion programs. She is Founder and Executive Producer of Creative Innovation 2010 and 2011.
Rebecca Bode - Soprano
Rebecca studied at the Victorian College of the Arts and Queensland Conservatorium of Music before her debut with The Victorian State Opera and later as a full-time soloist with Opera Australia. She travelled overseas and performed and toured internationally including with the London City Opera and European Chamber Opera.
Jon Bode - Tenor
Jon has performed as an actor and singer in theatre, musical theatre and opera in Australia and around the world. He studied at the Western Australian Academy of Performing Arts before working with the Melbourne Theatre Company, Playbox, State Theatre Company of South Australia and in various touring musicals. Whilst living overseas he toured with European Chamber Opera, London City Opera, Columbia Artists Management and Opera in Concert Productions Worldwide. Since returning to Australia, Jon has continued to work in theatre, regularly appearing as a guest soloist with Melbourne Opera Company, Victorian Opera and Opera Australia.
Jonathan Morton - Baritone
Jonathan is a founding member and director of Pot-Pourri and Music Theatre Australia. Alongside singing, Jonathan also has a Bachelor of Science in chemistry and plays the didgeridoo. Jonathan completed the Opera Studio course at VCA. He performed with the Victorian State Opera from 1988 as well as performing with the Melbourne Opera Company, Castlemaine State Festival and Port Fairy Festival.
Rebecca Chambers - Pianist
Rebecca Chambers has established herself as a prominent young Australian pianist playing as a soloist with Australia's major symphony orchestras and has performed on four continents. In recognition of her achievement in music she was named as the 1996 Young Australian of the Year. In 1996 Rebecca graduated from the Manhattan School of Music in New York and made her Lincoln Centre debut with New York Symphony.
Voted Australian Event Entertainers of the Year, celebrate Pot-Pourri's 25th Silver Anniversary this year with A Sensational Sunday of Song, a concert by Pot-Pourri, on Sunday 27th November at 7:30pm at the Melbourne Town Hall.
Artist's website: www.pot-pourri.com.au
Pot-Pourri is featured on the following titles

In 2012 one of Australia's most-loved groups, Pot-Pourri, is celebrating 25 years! Silver is the group's seventh recording and celebrates its 25th Anniversary.
Performer

A delicious blend of highlights from Broadway shows, popular music theatre, traditional songs and operatic hits.
Performer
Pot-Pourri also appears on

For over ten years Pot-Pourri, one of Australia's most exciting and highly sought after performance groups have been committed to bringing a highly accessible and entertaining blend of musical theatre and opera to audiences both nationally and internationally.
Performer