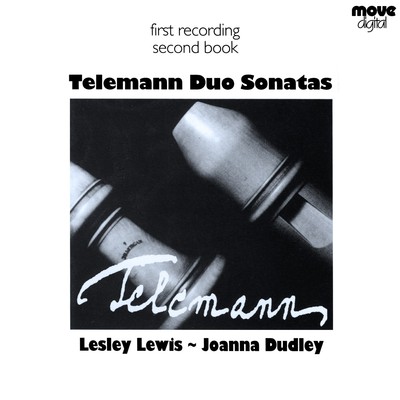 Telemann Duo Sonatas
This is the first-ever recording of the second book of Telemann's 'Six Duo Sonatas', played on two recorders. Based on short memorable themes, often reflecting folkloric influences, the prevailing mood of all the duos is light-hearted.
"The Duos all comprised of three movements and loosely encapsulate the elements of baroque sonata, sometimes using binary form with repeated sections or alternatively using a through composed form which encapsulated the later classical sonata movement. The accepted norm of contrast between movements i.e. fast--slow--fast, is not always present, and similarly the key changes between movements stretch the bounds of relativity. This suggests that the Duos may have been conceived as individual movements not necessarily to be performed together as a three movement sonata, even though they were published this way.
In this performance for two recorders the Duos have all been transposed up a minor 3rd from the original key, to fit the compass of the instruments."
-- Lesley Lewis
Artists

Joanna Dudley has been one of the Elder Conservatorium's most promising graduates in her chosen instrument, the recorder. Having gained a first class Honours degree, she has already established herself as a versatile professional artist in Australia through her appearances with the ensemble 'Fresh Air' featuring World Music and her solo performances, many of which have featured premières of Australian works. She has featured in ABC radio broadcasts and as part of the Adelaide Arts Fringe Festival in 1992 and 1994 as a soloist of baroque and contemporary music with equal success.

Lesley Lewis teaches recorder, harpsichord and conducts the Early Music programme at the Elder Conservatorium's school of Practical Studies within the University of Adelaide. She also performs as harpsichordist with the Adelaide based baroque ensemble Musica da Camera and the orchestra New Holland Baroque. As a founding member of Baroque Music Promotions Incorporated, she has played a key role in establishing early music education and appreciation in the South Australian community.
Press quote
"Lewis and Dudley are fine recorder players who combine a great sense of enjoyment and very solid technique."
— Soundscapes
Audio preview
Track Listing
Vivace
Allegretto
Spiritoso
Vivace
Moderato
Allegro
Vivace
Poco presto
Allegro
Allegro
Andante
Vivace
Allegro
Poco allegremente
Poco presto
Presto
Aria (Allegretto)
Vivace assai
Performers
Composer

Georg Philipp Telemann (1681–1767) was a German Baroque composer and multi-instrumentalist. Almost completely self-taught in music, he became a composer against his family's wishes.
Where to buy
Telemann Duo Sonatas is available for download from the iTunes Music Store.
It's available for streaming through Apple Music.
Telemann Duo Sonatas is available as as CD. It can be purchased online through Buywell Music or the Australian Music Centre which both offer secure online ordering.
Move CDs can be ordered through music retailers across Australia including Readings.
Product details