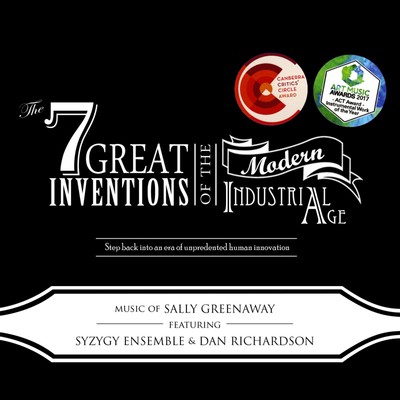 The 7 Great Inventions of the Modern Industrial Age
This masterful CD explores the astounding surge in human invention during the 20th century ... and its consequences. This is an award-winning dramatic musical work by Sally Greenaway featuring the Syzygy Ensemble.
The work explores 7 categories of inventions from the 20th century and how they have changed humanity and our world.
It documents a range of inventions and key historic moments that changed the course of humanity forever.
The recording presents the key musical movements from Greenaway's hour long dramatic music work, The Seven Great Inventions of the Modern Industrial Age. The full production is an immersive and interactive story that involves 6 musicians supported by an actress (or actor), archival audio, sound fx, lighting and set design featuring over 100 artefacts from the 20th century.
During the composition process, Greenaway emphasized the development of atmosphere and narrative, which was drawn from the stories and experiences of the 90+ year olds she met with. She also spoke with archivists and scientists to bring further authenticity to the work.
Artist

Syzygy Ensemble has gained a reputation as one of Australia's finest new music ensembles, lauded for their virtuoso precision, innovative programming, and ability to connect viscerally with their audiences.
Press quotes
"7 Great Inventions of the Modern Industrial Age is a delightfully inventive collaboration between composer Sally Greenaway and Syzygy Ensemble. The result is a thought-provoking and entertaining musical and theatrical journey through the trailblazing century of humanity-changing invention. A highlight of this collaborative production is the superb musicianship of the Syzygy Ensemble a contemporary music sextet on piano, violin, cello, clarinet, flute and percussion. Their musicianship is unparalleled. Greenaway's suite of music notably constitutes an eclectic range of compositional genres."
— Peter Wilkins, Canberra Times
"Greenaway has been steadily building a reputation for the versatility of her compositions, embracing classical chamber works, choral, big band jazz, film and documentary soundtracks. Greenaway took advantage of the opportunity to experiment with different genres and styles. through telecommunications, aviation, space exploration, massed warfare, the artificial brain and computing and biomechanical and medical marvels.
Greenaway's music was stylishly performed by the Melbourne based, Syzygy Ensemble, who played a variety of instruments. Greenaway's music was eclectic and playful. A ragtime interpretation of Bach's Two Part Invention to set the scene, evocations of a European carousel suggested the advent of film, and a haunting cello solo conjured up medical marvels."
— Bill Stephens OAM, Australian Arts Review
"Greenaway's theatre piece 7 Great Inventions of the Modern Industrial Age finishes by musing on the next seven great inventions, which has me wondering how they chose this seven. The musical performances were both musically satisfying and very nicely performed. Syzygy comprised a sextet, piano, violin, cello, clarinet, flute, percussion."
— Eric Pozza, Canberra Jazz Review
Track Listing
Performers
Composer

Award winning Canberra-based composer-pianist Sally Greenaway (b. 1984) works in a multiplicity of styles and genres, from orchestral film and concert works to jazz ensemble, big band, chamber and vocal music.
Where to buy
The 7 Great Inventions of the Modern Industrial Age can be purchased online through Buywell Just Classical or the Australian Music Centre which both offer secure online ordering.
This title is also available in (or can be ordered through) many fine music retailers across Australia including Readings.
Product details
List price

$25.00 AUD

Release date

March 2018

Copyright

© 2018 Sally Greenaway

Phonogram

℗ 2018 Move Records

Category

Catalogue number

MD 3427

Barcode

EAN 9314574342727