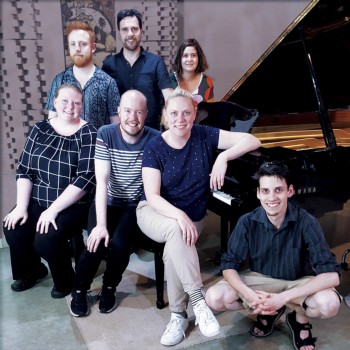 Syzygy Ensemble
Syzygy Ensemble has gained a reputation as one of Australia's finest new music ensembles, lauded for their virtuoso precision, innovative programming, and ability to connect viscerally with their audiences.
The musicians of Syzygy Ensemble share a deep empathy with music of our own time as well as an unbridled desire to share this enthusiasm with audiences in a way that may stretch your ears but never slap you in the face!
They do not want to wait 100 years for the world to catch up with what composers are doing here and now, and they are excited to take you on the journey as they present contemporary music that speaks to all of us with relevance, authority and passion.
Since winning first prize in the chamber music section of the Australian Concerto and Vocal competition in 2010, Syzygy has gone on to tour, perform, mentor and educate all around the country, unearthing the best and most exciting music of the twentieth and twenty-first centuries. The ensemble has performed at the Gaudeamus Interpreter's Award in Holland, for Brisbane's DeClassified Music, the Mildura Arts Festival and is about to enter its 4th year as an ensemble-in- residence at the Melbourne Recital Centre.
Their debut CD Making Signs released 2016, contains specially commissioned works by Gordon Kerry and Brenton Broadstock, as well as premiere recordings of Brett Dean and Annie Hsieh.
Syzygy Ensemble is featured on the following titles

This masterful CD explores the astounding surge in human invention during the 20th century ... and its consequences. This is an award-winning dramatic musical work by Sally Greenaway featuring the Syzygy Ensemble.
Performer

The chamber music of Katy Abbott. Her chamber works span her career to date and are perhaps the best example of her capacity to immediately engage the audience in an evocative sound world.
Performer