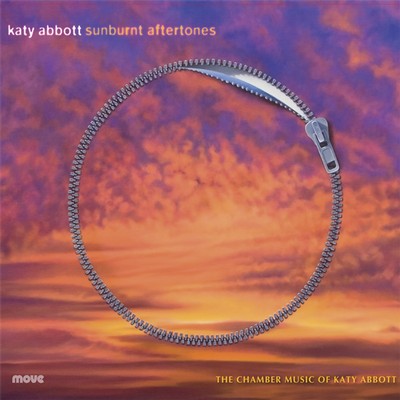 sunburnt aftertones
The chamber music of Katy Abbott. Her chamber works span her career to date and are perhaps the best example of her capacity to immediately engage the audience in an evocative sound world.
Each one has a strong sense of place or person, crafted with assertive clarity. Human qualities of beauty, melancholy and satire radiate from pieces like Multisonics and No Ordinary Traveller while her landscapes shimmer with heat waves (Sunburnt Aftertones) or resound with calls to prayer (Egyptian Wish). This is poetic, assertive music that is jubilantly of its time. Rosalind Appleby, music critic and author, 2010.
Artist

Syzygy Ensemble has gained a reputation as one of Australia's finest new music ensembles, lauded for their virtuoso precision, innovative programming, and ability to connect viscerally with their audiences.
Press quotes
"Katy Abbott writes,"in my music I am trying to capture the little things that make us human or happen to us because we are human. I seek to unpack the human side of life; humour, foibles, quirky things we do and say, beauty, grief and friendship". In this, she has succeeded. The pieces on this CD range from an examination of the life of a female traveller in 'No Ordinary Traveller' for mezzo-soprano, to reminiscences of hearing calls to prayer in 'Egyptian Wish'…If you're interested in contemporary Australian composition, this CD provides an excellent example of approachable new music." ★★★
— Paul Ballam-Cross, Limelight Magazine
"This is evocative and jubilant music of its time"
— Rosalind Appleby, music critic and author
Audio previews
Track Listing
Performers
Composer

Katy Abbott's music is refreshingly genuine. She is part of a new wave of composers who emerged after the style wars that dominated Australian music in the nineties and her music has no hint of either forced intellectualism or fluffy popularism.
Where to buy
sunburnt aftertones is available as as CD. It can be purchased online through Buywell Music or the Australian Music Centre which both offer secure online ordering.
Move CDs can be ordered through music retailers across Australia including Readings.
Product details
List price

$25.00 AUD

Total playing time

67 minutes 44 seconds

Release date

2010

Copyright

© 2010 Katy Abbott

Phonogram

℗ 2010 Move Records

Categories

Catalogue number

MCD 441

Barcode

EAN 9314574044126