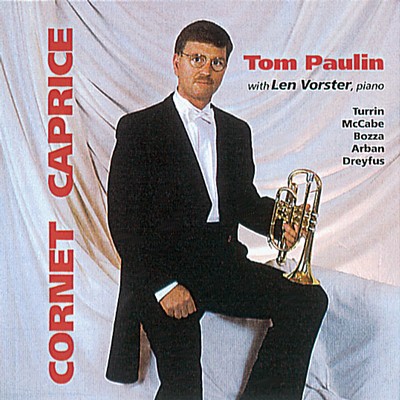 Cornet Caprice
Brilliant cornet player Tom Paulin plays works by Bozza, Dreyfus, Arban, McCabe and more.
The extraordinary agility, brio, fun and excitement of the cornet are featured in this CD containing works by Bozza, Dreyfus, Arban, McCabe and more. Outstanding cornet player Tom Paulin is accompanied by pianist Len Vorster for this stunning collection of old and new cornet pieces.
Artists

Len Vorster is one of Australia's finest accompanists and is artistic director of Classical Palette (a series of Naxos recordings devoted to contemporary music), of the Schirmer Ensemble, and of Port Fairy Spring Music Festival.

Tom Paulin is a British cornet soloist of outstanding ability. During his career, Tom has toured many countries as a soloist including, France, Germany, Australia, Italy, USA and Canada. He has taught brass at schools in the United Kingdom and Australia, and currently also teaches at The University of Melbourne.
Press quotes
"Tom Paulin is to be congratulated for bringing out a serious minded CD which should silence those critics who forever tell us that the cornet can only be equated with triplet polkas and Victorian ballads."
— David Read, UK,
"a fine recording ... A pleasure to listen to and review."
— Craig Tooke, Band News
"Paulin's obvious talent, make this CD well worth listening to"
— Rob Smithies, Australian Music Teacher Magazine
Track Listing
Caprice (Jospeh Turrin)
Siciliano (John McCabe)
Rustiques (Eugene Bozza)
Willow Echoes (Frank Simon)
At The Beach (Virgil Thomson)
Fantasie Brillante (Jean Baptiste Arban)
Highland Habanera (John McCabe)
Aria Et Theme (Franz Tournier)
Fantasy Piece (Kurt Schwertsik) Slavische Fantasie (Carl Hohne)
Ballad (John McCabe)
Larino, Safe Haven (George Dreyfus)
Concerto (Alexander Arutunian)
Where to buy
Cornet Caprice is available as as CD. It can be purchased online through Buywell Music or the Australian Music Centre which both offer secure online ordering.
Move CDs can be ordered through music retailers across Australia including Readings.
Product details
List price

$25.00 AUD

Categories

Catalogue number

MCD 060

Barcode

EAN 9314574006025