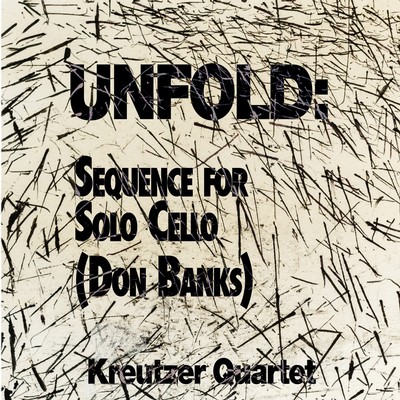 Unfold: Sequence for solo cello
This 13 minute work by Don Banks was recorded at the same time as the Kreutzer Quartet's UNFOLD album. Time limitations prevented this track being included on the UNFOLD CD. You can download the track from iTunes and other download sites.
Banks' "Sequence for solo cello" was commissioned by the 66 Group in Cardiff, and it was first performed by George Isaac in 1967. The form of the piece is straightforward.
An opening lento establishes the piece's principle motifs. The allegro that soon follows develops these ideas. This development includes sections that are 'ad lib' in timing, and which begin a counterpoint between dramatic, virtuosic passagework, and slow plainchant. The second section begins by extending the plainchant idea with a series of slow, evenly timed pitches. Between each 'Canto,' as Banks terms them, are sections that explore a specific technique: sul ponticello; pizzicato; sul tasto; col legno.
Although these sections focus on one technique, that technique is not used exclusively; for example, the movement to and from pizzicato is as important as pizzicato itself. Similarly, the opening of the piece moves around the four open strings of the instrument, but it is not limited by these four pitches. A short coda brings all the earlier ideas together.
This "bonus track" is available by download. You can purchase the 13 minute track from iTunes: enter "unfold sequence" in the search box.
All seven tracks (the UNFOLD album and SEQUENCE FOR SOLO CELLO) are available in high definition. See the page for the complete Unfold album for more information.
Artist
Track Listing
Performer
Composer

Donald Oscar Banks (1923-1980), composer, was born on 25 October 1923 in South Melbourne. His father, a professional jazz musician.
Where to buy
Unfold: Sequence for solo cello is available for download from the iTunes Music Store.
It's available for streaming through Apple Music.
Unfold: Sequence for solo cello is available as as CD. It can be purchased online through Buywell Music or the Australian Music Centre which both offer secure online ordering.
Move CDs can be ordered through music retailers across Australia including Readings.
Product details
List price

$10.00 AUD

Release date

2015

Copyright

© 2015 Move Records

Phonogram

℗ 2015 Move Records

Category

Catalogue number

MD 3381

Barcode

EAN 9314574338126