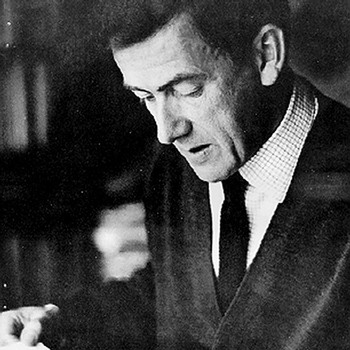 Photo: AMC
Don Banks
Donald Oscar Banks (1923-1980), composer, was born on 25 October 1923 in South Melbourne. His father, a professional jazz musician.
His creativity was characterized by the emphasis he gave to the craft and professionalism of being a composer. Banks's personality and training attracted him to serial theory and techniques. He co-operated in developing an early synthesizer, the VCS1, and became interested in electronics as a possible source for new sounds.
Small and frail-looking, with glowing eyes, Banks was animated in movement and gesture. He valued 'mateship' and battled to secure composers' rights. His vision for music in Australia included a high level of professionalism for Australian composers, a steering away from self-conscious nationalism and an absorption of world music which he hoped would lead to the emergence of an Australian 'sound'.
Compositions by Don Banks appear on

This 13 minute work by Don Banks was recorded at the same time as the Kreutzer Quartet's UNFOLD album. Time limitations prevented this track being included on the UNFOLD CD. You can download the track from iTunes and other download sites.
Composer

The Kreutzer Quartet has forged an enviable reputation as one of Europe's most dynamic and innovative string quartets. Here they present four Australian quartets.
Composer

Australian gems for violin and piano. Jewel showcases the work of some of our finest composers including Peter Sculthorpe, Margaret Sutherland, Don Banks and Vincent Plush.
Composer