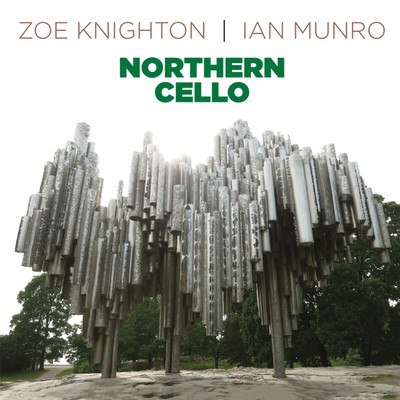 Northern Cello
Music for cello from composers who lived and live in northern Europe. Zoe Knighton is joined by pianist Ian Munro on piano to present gorgeous gems from Edvard Grieg, Jean Sibelius, Peteris Vasks and Arvo Pärt.
Zoe Knighton and Ian Munro have had a long association together as chamber musicians and here celebrate by collaborating on a unique combination of beautiful northern European melodies.
Using the the magnificently romantic Grieg sonata as their centrepiece, this CD presents a diverse program from the haunting beauty of Väsk's "Gramata Cellam" to the grand beauty of Grieg.
Described a musicians of 'color and flair' (Munro) with a 'thrilling tenor sound" (Knighton) this is a CD not to be missed.
You can watch a video of a piece by Sibelius "Romance" on YouTube which was made during the recording sessions:
Artists
Zoë is at the fore of a new generation of performer intent on forging an innovative path for the enjoyment of 'classical' music. She is a founding member of Flinders Quartet

Ian Munro has emerged over recent years as one of Australia's most distinguished and awarded musicians, with a career that has taken him to thirty countries in Europe, Asia, North America and Australasia.
Press quote
"Cello and piano sing a Southern Hemisphere's ode to the North. Grieg's Cello Sonata in A Minor is infused with burgeoning energy and elation alike. As agitated as its Allegro agitato may be, Knighton still hints at moments of calm – a lullaby set against droplets of piano. The Andante molto tranquillo is bravely vulnerable and homely. Although it's a minor-key work the duo leaves us with a feeling of optimism. It's magnificently paired with the composer's Elegiac Melodies, Op. 34. The latter opens with the slow melodic plod of the Herzwunden, before the glorious emotional strains of Letzter Frühling. Sibelius' Four Pieces for Cello and Piano, Op. 78, offers a refreshing layer within the release – his Romance strengthening the passion before a docile Religioso, and a subtle Rigaudon to close." ★★★½
— Stephanie Eslake, Limelight
Track Listing
Cello Sonata in A minor, Op. 36 Edvard Grieg

Allegro agitato
Andante molto tranquillo
Allegro

Elegiac melodies, Op. 34 Edvard Grieg

Herzwunden
Letzter Frühling

Four pieces for cello and piano, Op. 78 Jean Sibelius

Impromptu
Romance
Religioso
Rigaudon

Gramata Cellam (For solo cello) Pēteris Vasks

Fortissimo marcatissimo
Pianissimo dolcissimo
Fratres Arvo Pärt
Performers
Composers
Where to buy
Northern Cello can be purchased online through Buywell Just Classical or the Australian Music Centre which both offer secure online ordering.
This title is also available in (or can be ordered through) many fine music retailers across Australia including Readings.
Product details
List price

$25.00 AUD

Release date

July 2017

Copyright

© 2017 Move Records

Phonogram

℗ 2017 Move Records

Category

Catalogue number

MD 3420

Barcode

EAN 9314574342024