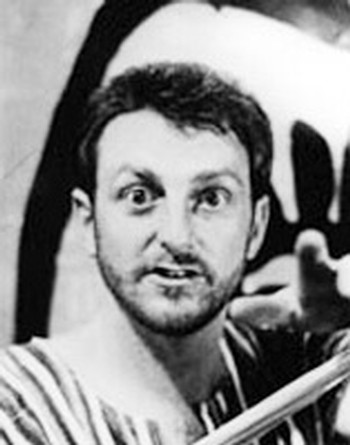 Colin Offord
Colin Offord is a musician, composer, visual artist, inventor of sound sculptures, teacher and the artistic director of the Great Bowing Company.
Offord has created a unique performance art form, part-ritual, part theatre, combining an extraordinary vocal technique with original instruments, visual works and costume. A distinctive new Australian musical and visual language combining Celtic, Pacific, Asian, Jazz and Western 'avant-garde' influences.
As a soloist, and with his company he has represented Australia at arts festivals, expo's, national days and cultural exchanges throughout North America, South East Asia, Japan, Hong Kong, Melanesia, Polynesia and Europe. In Australia he has held exhibition's of visual art in private and state galleries and performed in major festivals, museums, galleries, theatres, halls, caves, outdoor environments, schools, universities and in the streets.
Offord has composed scores for the ABC radio, dance and theatre companies such as Meryl Tankard's Nuti and Banshee, Restless Dance Company's Ikons and Louis Nowra's Capricornia. He has directed large scale community projects and was John Wyre's assistant director for World Drum Festival, Expo '88: Brisbane.
Offord has lectured and taught in colleges and univeristies throughout Australia.
Repertoire - Colin has composed a number of works for the Great Island Mouthbow (an instrument he designed and created), Australasian flute, conch shells, windpipes, wedge-tail eagle feather flute and moonbells.
Offord also works with traditional instruments such as the Khene Isan from Thailand, the Jaws Harp from Papua New Guinea, instruments from the Phillipines and Italy and double wood flutes made for him by Mark Binns.
Artist's website: www.colinofford.com
Colin Offord is featured on the following titles

Performer: Original sculptures and instruments, Composer
Pacific Sound features the exotic sounds of original instruments designed and created by Colin Offord.