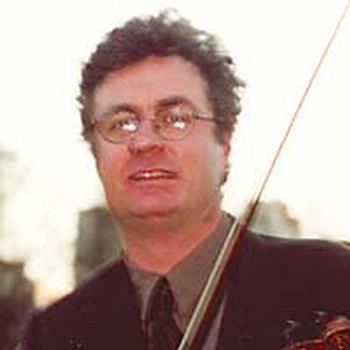 David Osborne
A composer, band leader, violinist and confessed former rock guitarist, David Osborne is the driving force behind the Salon group Raga Dolls.
David Osborne grew up in Canberra where as a student of violin he was a member of the Canberra Youth and Symphony Orchestras. He made his debut as a soloist at the age of 16 playing the first solo part in the Bach Double Concerto. During this period he also recorded two recitals for the ABC radio Young Australia series. At a very young age David developed a keen interest in composition and arrangement. While still at school he co-wrote and helped produce an opera Volstag and this led to his first professional engagement with the Brisbane-based touring company, The Popular Theatre Troupe. This organisation was dedicated to taking its shows out of traditional venues and into the work place, schools, remote country areas, hotels and even prisons.
In search of a less hectic existence, David left the troupe and took up a position as resident arranger and composer at Suite 16 Audio productions - a Brisbane recording studio. In this capacity he worked on a number of large-scale productions for which he conducted the Queensland Philharmonic Orchestra including a station ID for Channel 7, a commercial for the Brisbane Courier Mail and the theme music for the Commonwealth Festival of the Arts. He also composed the soundtrack for the Cape York Connection, an award-winning documentary screened on Channel 7's "The World Around Us".
A versatile musician who is also an accomplished guitarist, David formed a band The Naturals that travelled the Queensland circuit for two years before signing with Mushroom Records. After moving their base to Sydney, the band released their first single, David's composition "On the Alert" which had high rotation airplay around the country and reached No. 1 on the Independent Charts.
David moved to Melbourne after the Naturals split and joined popular Afro-Reggae outfit Randy and Jah Roots. The band toured regularly along the east coast of Australia.
David formed Raga Dolls in 1998. The group has developed a large following throughout Victoria with their unique approach to classical music. Original tracks from their first CD Wordless Meanings (now re-released on Move) have featured regularly on ABC Classic FM's 'Breakfast' and 'Classic Drive' programs.
Based in Melbourne, Raga Dolls play an unusual yet surprising coherent blend of styles all coming together loosely under the heading of 'Salon Music'.

In the beginning, there was harmony - before anyone thought to ask the question "What sort of music do you play?" ... before everyone became too busy to stop and listen anyway ... before music became 'the music industry' ... harmony was lost in a cacophony of meaningless words.
Performer: Violin, Steel String Guitar
Composer