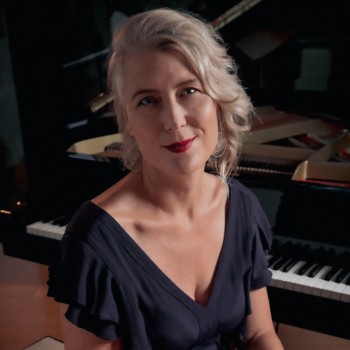 Felicity Wilcox
Felicity Wilcox is an ARIA and AACTA-nominated Australian composer, whose output encompasses concert music, film music, songwriting and improvisation, music for theatre, installation, live events, and radio.
She has received commissions for many leading ensembles, and her compositions are performed and broadcast in Australia and internationally. She has composed the soundtracks for over 60 screen productions. Felicity is a Senior Lecturer in Music and Sound Design at the University of Technology Sydney, and lives on Darug Country in the Blue Mountains, NSW, Australia.
Artist's website: felicitywilcox.com
Compositions by Felicity Wilcox appear on

Performer: piano, Composer
This first-ever collection of concert works by Felicity Wilcox represents the cream of her recent chamber music compositions. They include a brand-new recording of her celebrated bass clarinet work composed for Jason Noble, 'People of this Place', alongside works commissioned by Ensemble Offspring, Ironwood, and the Australia Ensemble, as well as a movement from Wilcox's first string quartet, performed by Sydney Art Quartet.