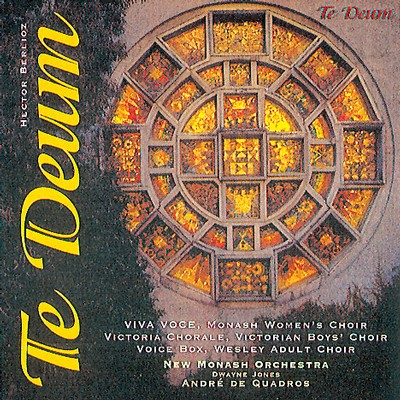 Te Deum
Conductor André de Quadros has assembled six highly acclaimed choirs, the New Monash Orchestra, tenor soloist Dwayne Jones and organist Linda Kent to perform Berlioz' masterwork.
André de Quadros conducts Viva Voce, Monash Women's Choir, Victoria Chorale, Victorian Boys' Choir, Voice Box, Wesley Adult Choir and the New Monash Orchestra. Featuring tenor soloist Dwayne Jones and organist Linda Kent.
The 'Te Deum', written in 1849, contains some of Berlioz' finest writing, it is a piece of mammoth proportions in terms of forces employed, breadth of style and immensity of musical form.
It features the beautifully melodic 'Tibi omnes', the dramatic and militaristic 'Praeludium', the intricately contrapuntal 'Dignare 'and the 'Judex crederis', which Berlioz himself considered along with the 'Symphonie funebre et triomphale' to be one of his most "architectural and grandiose creations".
Particular attention has been paid to the balance in this recording, which due to the immense nature of the piece and the forces employed can be problematic in other recordings.
Artists

The New Monash Orchestra draws its members from students of the Bachelor of Music and talented students from other faculties of Monash University, as well as professional musicians and students from other institutions.

A Senior Lecturer in the Department of Music at Monash University, Andre de Quadros has responsibility for coordinating the Performance program, and is the musical director of the New Monash Orchestra, the Monash Sinfonia, the Monash Women's Choir and VIVA VOCE.
Track Listing
Te Deum
Tibi Omnes
Praeludium
Dignare
Christe, rex gloriae
Te Ergo Quaesumus
Judex Crederis
Composer
Where to buy
Te Deum is available as as CD. It can be purchased online through Buywell Music or the Australian Music Centre which both offer secure online ordering.
Move CDs can be ordered through music retailers across Australia including Readings.
Product details
List price

$25.00 AUD

Release date

1997

Copyright

© 1997 Monash University

Phonogram

℗ 1997 Move Records

Categories

Catalogue number

MCD 098

Barcode

EAN 9314574009828