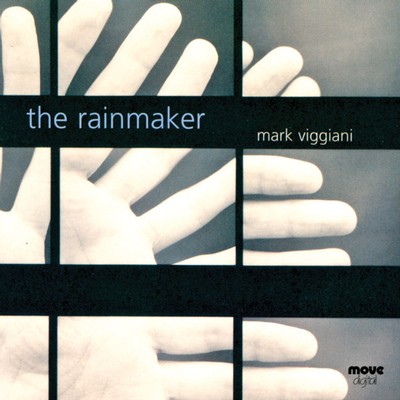 The Rainmaker
From Jazz to Celtic, Middle Eastern folk to contemporary Classical, ambience to the tango The Rainmaker brings together an eclectic range of influences.
An incredible collection of pieces showcasing the guitar's expressive potential and Mark Viggiani's own immense talent!
Incorporating a broad range of influences from jazz to Celtic, Middle Eastern folk to contemporary classical, ambience to the tango, Mark Viggiani successfully fuses this broad range of influences to create a CD that is charming, sometimes thrilling and always atmospherically charged!
Mark Viggiani performs widely both as a soloist and in various groups, his elegantly titled compositions, inspired by nature and spirituality have been performed by various groups, including Z.O.O. Duo and new music ensemble Sonance.
Joined by percussionist Steve Falk, violinist Hope Csutoros and recorder player Racheal Cogan, Viggiani has created a totally engaging and astonishing CD!
Mark Viggiani talks about the tracks on his CD 'The Rainmaker' !
The Rainmaker began as a recasting of the Elizabethan lutenist John Dowland's ballad 'If My Complaints Could Passions Move'. Through many versions, it has condensed down to the mostly solo version heard here.
Copal A dance in alternating bars of seven and six, with other things thrown in. Vaguely Middle Eastern in sound, but not an attempt to imitate music of any particular culture. A vehicle for recorder player Racheal Cogan and violinist Hope Csutoros.
Black Cat Tango — I have been excited by Hope's violin playing since studying with her at the Victorian College of the Arts in the late '80's. This piece was originally written for this combination, but has been performed by many others. The inspiration is probably Tom Waits ' use of European dances on recordings like Rain Dogs. I wanted to create a vehicle for jazz improvisation based on something other than a swing or rock groove, in this case a Habanera.
Mandala was originally part of a suite of pieces composed for the octave guitar. Its a sort of slipjig, with a beat dropped every two bars. Supported by a hand drum, it has become an interesting basis for improvisation. The second section uses the tune minimilistically, in the style someone like Steve Reich. The piece Mandlebrot(German for almond bread), is a re-examination of the same tune, treated more freely and abstractedly.
Gun is a piece that arose as a reaction to the Port Arthur massacre. It is a free improvisation based on some extended techniques that I happened to be exploring at that time. The horror of the occasion gave these sounds emotional significance and eventually led to this performance. The guitar is close miked and reverb has been added to the track.
Anyone who has lived in the suburb of Brunswick will know what a crazy place it is to drive a car. The narrow but busy streets are an obstacle course that it takes a while to learn to negotiate. All of my titles come a long time after the pieces they describe, and the phrase 'Hope Street Slalom ' seemed appropriate for the interplay of Guitar and drums, convoluted but staying out of each others' way.
Fireflies The chord sequence and developing melody was inspired by Keith Jarrett, while the technique of overdubbing (There are four guitar parts), has its precedent in Bill Evans' amazing album Conversations With Myself. Heading North also uses this technique, though on a smaller scale.
There are many other influences on the CD, ranging from Classical tremolo technique (Gordon River), to contemporary guitar composers such as Leo Brouwer. The basis of the music is of course the freedom of improvisation.
Artist

Mark Viggiani is a classical and contemporary guitarist and composer. He performs widely as a soloist and in various groups. His elegantly titled compositions, inspired by nature and spirituality have been performed by various groups, including Z.O.O. Duo and new music ensemble Sonance.
Press quotes
"Young guitarist has flair, talent!"
— The Age
"Viggiani has written with fluency for the instrument, utilizing the guitar's potential with assurance and flair."
— The Age
"Viggiani has talent, and obviously revels in the chance to build music on the spot ... A quick thinking, inventive musician."
— The Age
"Throughout the proceedings, the listener is left in no doubt that Mark Viggiani is an outstanding new talent whose ability to play the guitar is more than equalled by his ability to write challenging and original music."
— Paul Fowles, Classical Guitar U.K.
Track Listing
Marbles and piracies
The rainmaker
Copal
Gun
Mandala
Hope Street Slalom
Heading North
Still life
Mandlebrot
Bog onion road
Fireflies
Gordon River
May Day
Black Cat Tango
Where to buy
The Rainmaker is available for download from the iTunes Music Store.
It's available for streaming through Spotify and Apple Music.
The Rainmaker is available as as CD. It can be purchased online through Buywell Music or the Australian Music Centre which both offer secure online ordering.
Move CDs can be ordered through music retailers across Australia including Readings.
Product details
List price

$25.00 AUD

Categories

Catalogue number

MCD 078

Barcode

EAN 9314574007824