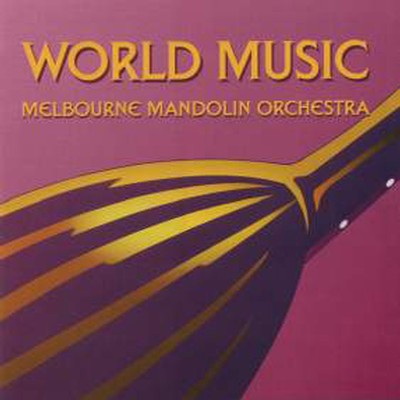 World Music
The Melbourne Mandolin Orchestra plays a selection of music from around the world, including Latin American, Klezmer, Slavic folk dances and blues all performed by this highly accomplished group.
This collection of mandolin compo­sitions from around the world adds to the repertoire of what is identified as world music. "World music" is a label applied to cultural styles of music that don't fit the classical, folk or pop music genres. Perhaps the increasing interest in "local" music is a reflection of the global rhythm of late twentieth century western society. Nearly all of the pieces in this recording are contemporary compositions, although the influences from traditional folk music are readily apparent.
Mandolin music has experienced a number of cycles of popularity in its history since the Baroque period. The Melbourne Mandolin Orchestra represents the modern interest in reviving traditional instruments within a contemporary context.
Mandolins with their delicate and light sound are ideally suited for chamber music. An extraordinary texture of sound is possible when mandolins are joined by other instruments such as the wind and percussion instruments used in the 'Klezmer Suite' and 'Three South Ameri­can Pieces'.
"World Music" also includes renditions of Latin American, Klezmer, Slavic folk dances, and blues by this highly accomplished group.
Artist
The Melbourne Mandolin Orchestra was formed in 1967 by Peter Evans and Josef Ruecker. Their aim was 'to develop and maintain a mandolin orchestra in Melbourne'. As well as performing regularly, the group organises summer schools, trips from overseas groups, trains new players, holds musical workshops & master classes, and commissions music.
Audio previews
Track Listing
Three South American Pieces - Martin Kugler

Tango Infernal
Lettre D'Adieux
Samba SudAmerica
Polushco-Pole - L. Kipper
Klezmer Suite - Elke Tober-Vogt

Sonata No. 3 for Clarinet - Gustav Gunsenheimer

Bagatelle
Blues
Capriccio
Fantasy - A. Holminov
Invierno Porteño - Astor Piazzolla

Yugoslavia - Ralph Pausen

Allegro
Adagio
Allegro
Allegro Moderato
Ruma für Zupforchester - Dieter Kreidler
Composer
Where to buy
World Music is available as as CD. It can be purchased online through Buywell Music or the Australian Music Centre which both offer secure online ordering.
Move CDs can be ordered through music retailers across Australia including Readings.
Product details
List price

$25.00 AUD

Release date

1998

Copyright

© 1998 Move Records

Categories

Catalogue number

MCD 120

Barcode

EAN 9314574012026