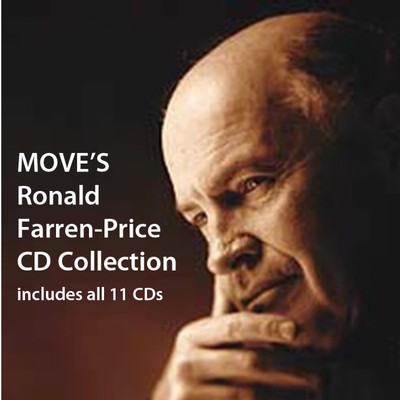 Ronald Farren-Price complete collection
The eleven CDs of Ronald Farren-Price are available individually or as a set for a special price of $100. To order the full set, click on one of the links on this page near the bottom. Digital booklets for these titles can be found on the pages for each of the eleven volumes.
Ronald Farren-Price is a consummate and seasoned concert pianist and educator. Considered the "Godfather" of technique and performance, he has been a teacher and mentor to many highly accomplished contemporary Move Records and Melbourne musicians.
As a soloist, he has appeared with renowned conductors including Antal Dorati, Ferdinand Leitner, Sir Eugene Goossens, Hubert Soudant, Sir Charles Groves, Willem van Otterloo, Hiroyuki Iwaki and many others. He has the honour of being the first Australian pianist invited to play in the former USSR.
He was for many years Head of Keyboard at the School of Music at the University of Melbourne.
Ronald Farren-Price has been reviewed as "... a sensitive artist and a virtuoso of top rank ... demonstrated a perfect balance between the sound and the expression of the music ... definitely a pianist of great distinction."
Where to buy
Ronald Farren-Price complete collection is available as as CD. It can be purchased online through Buywell Music or the Australian Music Centre which both offer secure online ordering.
Move CDs can be ordered through music retailers across Australia including Readings.
Product details
List price

$100.00 AUD

Release date

September 2021

Copyright

© 2021 Move Records

Phonogram

℗ 2021 Move Records

Catalogue number

MD 3462

Barcode

EAN 9314574346220