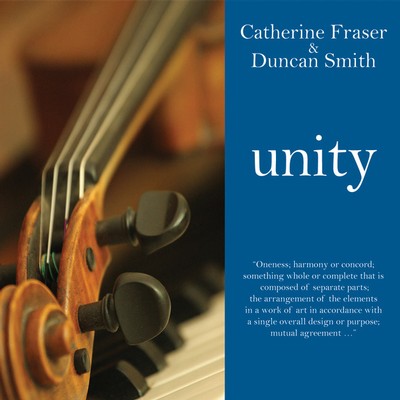 Unity
Covers a wide ranging musical and emotional spectrum — from haunting Gaelic airs to foot stomping dance music, from chamber music to evocative original works.
Offering a unique blend of traditional, contemporary and original music both from and inspired by the Scottish tradition, "Unity" covers a wide ranging musical and emotional spectrum -- from haunting Gaelic airs to foot stomping dance music, from chamber music to evocative original works.
On this, their third recording, Catherine and Duncan continue to combine technical mastery with their trademark emotional depth. "Unity" takes the listener on a memorable journey exploring stories and tunes from the 17th Century to the 21st, all handled with sensitivity and a unique personal touch.
Festival audiences on three continents use words like "incredible", "wonderful" and "deeply moving" to describe Catherine and Duncan's performances. This is a true duo, rather than soloist and accompanist; their musical connection is highly evident in the sonic space they create on Unity. As defined on the CD's cover, Unity means "Oneness; harmony or concord; something whole or complete that is composed of separate parts; the arrangement of the elements in a work of art in accordance with a single overall design or purpose; mutual agreement..."
That mutual agreement is evident in Catherine and Duncan's creative arrangements, in the blending of the beautiful tone of Catherine's 1821 Matthew Hardie violin with the richness of the Move Studios grand piano, and in the combining of compositions from William Marshall, James Scott Skinner, Malcolm Reavell, John Morris Rankin, and Fraser and Smith themselves, with works from the collections of Alexander McGlashan, and Patrick MacDonald found by Catherine Fraser during research in Scotland.
Part traditional, part folk, part classical, part world music, Unity is a "must have" for any serious musician's CD collection!
Artists

Duncan began playing piano in the Scottish idiom in 1980 as the founding pianist in Barbara McOwen's internationally known Scottish dance band "Tullochgorum". He has recorded four CDs of Scottish Country Dance Music -- Dancin' Music with fiddler Susan Worland in 1987, Kardinia Capers (2002) and The Southern Touch (2005) with David South and his Band, and Old Favourites and Odd Couples in 2004 with his current music partner Catherine Fraser.

Catherine Fraser is one of the Southern Hemisphere's leading Scottish fiddle players and is currently based in the Adelaide Hills, South Australia. She began playing the violin at age 8 and continued to study classical music at secondary and tertiary level, gaining a Bachelor of Music Teaching in 1997 from Adelaide University.
Press quotes
"Thoughtful, toe-tapping and intelligent, what more could you want"
— Roger Giles, realmusic
"Wow"
— William Crawford, Highlander Music
"Catherine Fraser & Duncan Smith played up a storm. . . Lots of light and shade, fast reels, elegant strathspeys, slow airs, Scottish, Cape Breton - all had our audience riveted."
— John Logan, NZ Folk
Audio previews
Track Listing
1. Aberdeen
Laird of Drumblair (J.S.Skinner)/The Miller O' Hirn (J.S.Skinner)/The Road to Banff (M. Reavell)/Chanonry Walk (C.Fraser)
2. Cromarty (C. Fraser)
3. MacDonald's Jigs
4. Chapel Keithack
Chapel Keithack/Lady Ann Wharton Duff's Strathspey/Miss Wharton Duff (all W. Marshall)
5. The Lads of Duns
The Lads of Duns (trad)/Molly Rankin's (John Morris Rankin)/The Auld Reel (trad)
6. Sunrise Departed (C. Fraser)
7. Jeasid's Tune (C. Fraser)
8. Eu-dochas mo Chridhe (My Heart's Despair) (C. Fraser)
9. Miss Drummond's Favourite
Miss Drummond of Perth's Favourite Scots Measure/Skye Air (arr L. Risk)
10. Hardie and Clark
For the Hardie (D.Smith)/Clark's Hornpipe
11. Fiddler's Sundays
Fiddler's Sundays (C. Fraser)/The Dancer on the Deck (C. Fraser)/ Fiddlers in the River (C. Fraser)/Lord Saltoun's (Trad)
12. Farewell to Grey Street (C. Fraser)

Where to buy
Unity is available for download from the iTunes Music Store.
It's available for streaming through Spotify and Apple Music.
Unity is available as as CD. It can be purchased online through Buywell Music or the Australian Music Centre which both offer secure online ordering.
Move CDs can be ordered through music retailers across Australia including Readings.
Product details
List price

$25.00 AUD

Categories

Catalogue number

MCD 312

Barcode

EAN 9314574031225