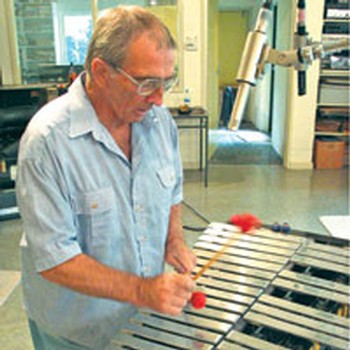 Alan Lee
Alan is one of Australia's foremost performers on his chosen instrument, the vibraharp. He began his jazz career in the early fifties as a rhythm
guitarist, but found his 'voice', the vibraharp, in 1957 and formed his own
quartet in 1959.
Since that time, Alan has played jazz with most of Australia's leading musicians, and his own small groups have included, at various times, Brian Brown, Keith Hounslow, Tony Gould, Ted Vining, Graham Coyle, Len Barnard, Bob Sedergreen, and Lucky Oceans, among others.
His quartet has appeared as support act for many visiting jazz stars, and in the late eighties he spent two years playing in Kansas City. Alan played congas, percussion and vibraharp in the pit band for the Melbourne season of the show 'Hair', and his interest in latin hand-drums led him to form a 70-piece Brazillian batucada ensemble which performed in Melbourne and Sydney in the seventies. He also began to combine his interest in European classical music with jazz pieces, resulting in concerts at Victoria's National Gallery and the recording of the recording, 'Gallery Concerts 1973' (Cumquat
CQCD-2723).
His abiding interest, however, has always been the music of John Lewis and the Modern Jazz Quartet. Alan sees in the compositions of John Lewis the perfect blending of the most stimulating and attractive elements of the blues, early jazz, be-bop, the classical disciplines of fugue and counterpoint, and the freedom of creation within a structured framework. The John Lewis pieces performed and recorded by this current quartet reflect these same qualities, as do the other compositions incorporated into the group's repertoire.
More about The Alan Lee/Jo Abbott Jazz Quartet
John Lewis' music combines romantic and classical, blues and jazz. These pieces were originally written for the Modern Jazz Quartet, and here they live on, freshly interpreted by Alan Lee (vibraharp), Jo Abbott (piano), Ivan Rosa (bass) and Ben Hendry (drums).
Performer: Vibrasharp