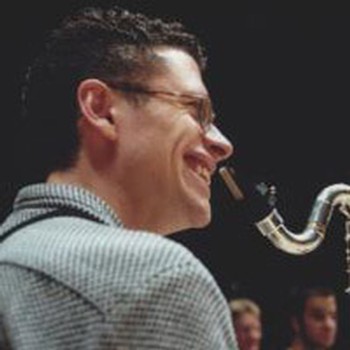 Carl Rosman
Carl Rosman is a highly sought-after contemporary music conductor and one of Australia's finest clarinet players, with a particular interest and expertise in twentieth century music. He is in as much demand as a recitalist as an ensemble player and, together with Peter Neville, he has toured Europe with Elision and has appeared with Germany's Ensemble Moderne.
Carl Rosman studied clarinet with Phillip Miechel from 1989 to 1993. He has performed widely as a soloist, most notably at the 1994 Darmstädter Ferienkürse, where he was awarded a Kranichsteiner Musikpreis for performance of works by Richard Barrett and Brian Ferneyhough, and a a performer in residence at the 1995 Akiyoshidai Festival in Japan. Carl has performed extensively in Europe, Japan and Australia. Carl is a member of the LIBRA and ELISION ensembles and has also performed for Chamber Made Opera and the Melbourne Symphony. In addition to his activity as a clarinettist, Carl works regularly as a conductor of contemporary music, having appeared with ensembles including LIBRA, Klezcyn Theatre and Nachtmusique.
Libra Contemporary Ensemble was formed in 1991 to provide performance possibilities for a wide range of rarely heard contemporary music.

An collection of chamber works by the Australian contemporary composer, Michael Whiticker performed by the Libra Contemporary Ensemble.
Performer: Conductor
Producer
Carl Rosman also appears on

This album spans nearly a quarter of a century of composition in the field of chamber music by Peter Tahourdin. The pieces reflect Peter's compositional metamorphosis and encompass a myriad of influences and themes, from Indian ragas to the Carmina Burana.
Performer: Bass Clarinet