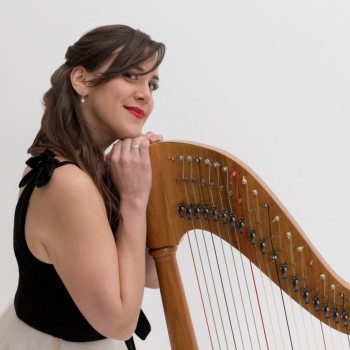 Claire Patti
With her hauntingly beautiful voice and elegant harp accompaniment, Claire Patti draws on classical, jazz, folk and contemporary popular influences in her performances of original songs and pieces, traditional Irish and Scottish songs, jazz favourites and classical repertoire.
Claire sings and plays the harp and horn with various ensembles including rising stars Co-cheòl, who were crowned State Champion at the 2014 A Cappella Victorian State Champions. They placed 1st runner up at the 2014 National A Cappella Championships, winning additional awards for "Best Band" and "Best Comedy Song."
She has featured as a solo performer and with Scottish band Taliska at folk festivals throughout Australia, and was awarded the "Female Vocalist of the Year" at the 2014 Australian Celtic Music Awards.
As a passionate conductor and choral singer, Claire performs with The Consort of Melbourne and was a long time member of internationally acclaimed ensemble The Australian Voices. She has worked with conductors of international acclaim, and her choirs are regular award-winners in competitions.
Claire Patti is featured on the following titles

Capturing the joy of shared music-making, this sublime new release from Claire Patti (vocal/harp), Louise Godwin (cello), and Tony Gould (piano) is a tribute to musical friendship and admiration.
Performer: harp, vocal
Evergreen Ensemble is where art music and folk music meet. It features four female musicians from Melbourne, Sydney and Geelong.

During the 18th Century, in Scotland, folk songs were regularly performed alongside Corelli and Vivaldi with no notion of one style being greater than the other. Likewise, within the 13 tracks of "Snow in Summer", alongside 18th century sonatas you'll hear arrangements of folk songs: sparse, ambient string textures, plucked notes resonating like stars in a clear nights sky, and a voice soaring high above.
Performer