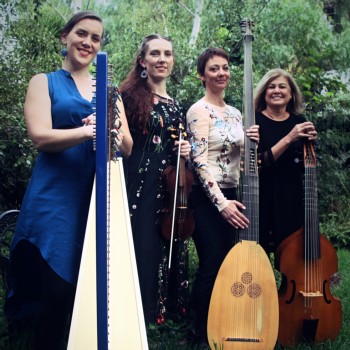 Evergreen Ensemble
Evergreen Ensemble is where art music and folk music meet. It features four female musicians from Melbourne, Sydney and Geelong.
The ensemble is composed of baroque violin (Shane Lestideau), theorbo and baroque guitar (Samantha Cohen), Celtic harp and voice (Claire Patti), and viola da gamba (Jenny Eriksson).
Evergreen Ensemble bridges the gap between folk music and baroque music. Known for their virtuosic programs bringing together the best of Australia's early music talent and folk icons, they weave stories back through time, rediscovering the sounds of folk melodies performed on period instruments.
"With a passion for early and modern repertoire and an ability to seamlessly cross the genres and performance styles of folk and art-music, Evergreen Ensemble is an up-and-coming ensemble with a unique musical language". (MRC)
Evergreen Ensemble was founded in 2014 by the violinist and artistic director, Shane Lestideau. Programs since that time have focused on the music of 18thC Scotland, exploring its stylistic links with Italy, its French dance connections, and producing a 2018 recording which traces the cultural ties of Northern Scotland to those of Scandinavia (Snow in Summer). The repertoire in question was often not written with a specific instrumentation in mind and the line-up of players in the ensemble is therefore varied to colour the program according to its cultural influences.
Past programs have featured iconic Australian bassoonist Simon Rickard (Pinchgut Opera), Ben Dollman (Australian Brandenburg Orchestra), Natasha Kraemer (ARCO), and famous international artists such as Chris Norman and David Greenberg (Canada) and Myriam Arbouz (France). In 2019 Evergreen Ensemble collaborates with Krishna Nagaraja (Finland) on baroque viola, and a host of Scottish musicians. Four programs will be launched in 2019, and a European tour is planned for 2020.
Evergreen Ensemble is featured on the following titles

During the 18th Century, in Scotland, folk songs were regularly performed alongside Corelli and Vivaldi with no notion of one style being greater than the other. Likewise, within the 13 tracks of "Snow in Summer", alongside 18th century sonatas you'll hear arrangements of folk songs: sparse, ambient string textures, plucked notes resonating like stars in a clear nights sky, and a voice soaring high above.
Members of Evergreen Ensemble