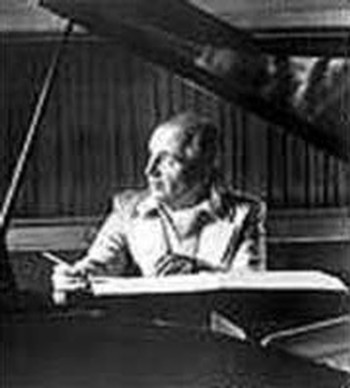 Claus Ogerman
Along with Lalo Schifrin, Ogerman created some of the best arrangements of the "now sound."
His two mid-60s instrumental albums for RCA--Watusi Trumpets and Saxes Mexicano--are well worth looking for, as are his arrangements for Cal Tjader's "Soul Sauce"-era albums on Verve.
Ogerman studied classical piano in Nuremberg after graduating from gymnasium, then joined Kurt Edelhagen's pioneering German jazz band. He spent five years with rival bandleader Max Greger, during which time he began doing arrangements and composed scores for 14 German films.
In 1959, he emigrated to the U.S. and worked for television and recording studios as a commercial arranger. By 1963, he had become something of a house arranger for Verve, where he worked on albums by Bill Evans, Oscar Peterson, Antonio Carlos Jobim, and Tjader. He then moved with producer Creed Taylor to Herb Alpert's A&M label, where he worked with Paul Desmond and others.
By the end of the 60s, he began moving away from commercial work and concentrated on his own compositions and recordings. He recorded intermittently for a variety of jazz labels, mostly complex pieces for larger ensembles.
Compositions by Claus Ogerman appear on

Such a Sky features recordings of live performances from the Melbourne Recital centre. Cellist, Imogen Manins and Pianist, Tony Gould are joined by a stella lineup of guests including Slava Grigoryan, David Jones, Gian Slater and Riley Lee.
Arranger

Move's ARIA-nominated jazz duo again returns to the studio for their long awaited new album! This recording goes much further in terms of repertoire, and consequently extends the level of energy on the spirited pieces, and the level of expression on the gentler ones.
Composer