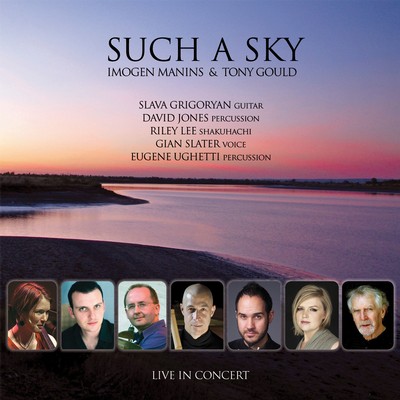 Such a sky
Such a Sky features recordings of live performances from the Melbourne Recital centre. Cellist, Imogen Manins and Pianist, Tony Gould are joined by a stella lineup of guests including Slava Grigoryan, David Jones, Gian Slater and Riley Lee.
Such A Sky, by the Manins & Gould partnership, is an album for dreaming; for lying back and losing oneself in the promise of infinity. Music takes off where words end; the ringing warmth of the cello, along with the lyrical wistfulness of piano and extraordinary guest musicians, lead you beyond the gateway of this world to a place of never ending possibility.
In keeping with the Manins&Gould tradition, the pair takes snatches of melodic material, improvising and weaving them through the soundscape of the CD; echoing them back in different guises. The new album also sees the return of a couple of old favourites; Paul McCandless' Queen of Sydney and Einaudi's Canzone Popolare (1500ca) as well as an evocative rendition of the WH Auden poem, Funeral Blues.
All tracks were recorded live at the Melbourne Recital Centre's Salon with guest percussionists Eugene Ughetti and David Jones, dew-drop clear voice of Gian Slater virtuoso guitarist Slava Grigoryan and shakuhachi master Riley Lee. Says Manins: "Gould and I work with our collaborators in choosing pieces which can be vehicles for our spontaneity and creativity as individual musicians and as an ensemble."
The album also features arrangements of large scale works by Ross Edwards (Dawn Mantras) and Michael Atherton (Shall we Dream?) by Manins who says: "I think these pieces work suprisingly well with only three or four players."
Such A Sky follows Manins&Gould's two previous and much acclaimed collaborations with Jones: 'Under the Tall Trees' (ABC, 2008) and 'The Cello and the Mockingbird' (Move Records 2011).
Artists

Pianist and composer Tony Gould is one of Australia's most respected musicians. His career has embraced many styles of music, not least jazz and other improvisatory musics in addition to traditional and contemporary classical musics. He gives many concerts each year and for 50 years he has been involved in an extraordinary number of recording projects both as pianist and composer and has been at the forefront of music education in Australia via various tertiary institutions in Melbourne and throughout Australia.

Imogen Manins is an uncommonly gifted cellist, with a formidable grasp of the standard classical repertoire as well as a wonderfully creative and innovative musical mind. This has led her to collaborations with a number of Australia's most outstanding improvisers, and an exploration of new musical ground for cello.
Track Listing
Performers
Composers
Where to buy
Such a sky can be purchased online through Buywell Just Classical or the Australian Music Centre which both offer secure online ordering.
This title is also available in (or can be ordered through) many fine music retailers across Australia, including Thomas', Discurio and Readings.
Product details
List price

$25.00 AUD

Total playing time

68 minutes 46 seconds

Release date

October 2013

Copyright

© 2013 Move Records

Phonogram

℗ 2013 Move Records

Category

Catalogue number

MD 3364

Barcode

EAN 9314574663429