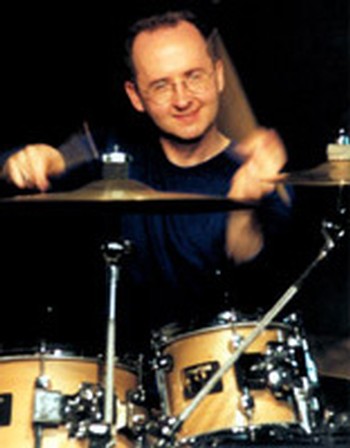 David Jones
David Jones is one of the most innovative and musical drummers in the world. He has toured nationally and internationally and has performed and recorded in the genres of rock and pop, jazz, classical, ambient, world music, cabaret, theatre, television and improvised works.
He has played with many great artists and ensembles, including James Morrison, John Farnham, Steve Wonder, John Denver, Marcia Hines, Tommy Emmanuel, Don Burrows, Debra Byrne, Rhonda Burchmore, Dame Kiri Te Kanawa, Larry Adler, Don McLean, the Melbourne, Sydney and Adelaide Symphony Orchestras, The Queensland Orchestra and the West German Radio Big Band (Cologne).
David was Head of the Drum Department at the Sydney Conservatorium from 1985 to 1993. In 2000, David returned to his home town of Melbourne; soon after, he joined James Morrison's sextet and toured extensively with the band over three years, before being awarded a two-year Fellowship through the Australia Council. This lead to the production of the Meditations on Love CD (ABC Classics) and associated concerts. His most recent release through ABC Classics is the solo album Colours of the Drum, a double CD plus bonus DVD.
Since 2004, David Jones has entered the world of symphony orchestras and solo concerts. In 2006, Tokyo composer Toshi Watanabe composed a Drumkit Concerto especially for David. Recent highlights have included a momentous solo set at the 2008 Cape Breton Drum Festival in Canada, where he shared the stage with some of the world's greatest drummers. In 2010 David was awarded the Melbourne Prize for Music.
Wherever David travels throughout the world, audiences are blown away with his playing, and his reputation is rapidly spreading on the world scene.
Artist's website: www.davidjonesdrums.com.au
Press quotes
"…[David's performance] was nothing less than a spiritual experience…to be truly transported by the power of the drum when it comes from a place of such deep intention as it does with David Jones"
— Michael Shrieve (original drummer for Santana),
"David Jones is, in my opinion, one of the greatest, most natural, musicians on the planet. His musicianship is mesmerising and captivating - I've always felt he was in a class of his own."
— Tommy Emmanuel (international artist),
David Jones is featured on the following titles
Improvisations on beautiful melodies. Cellist Imogen Manins joins forces with Tony Gould (piano) and David Jones (percussion) for this very special new release from Move Records.
Performer: Percussion
Composer
David Jones also appears on