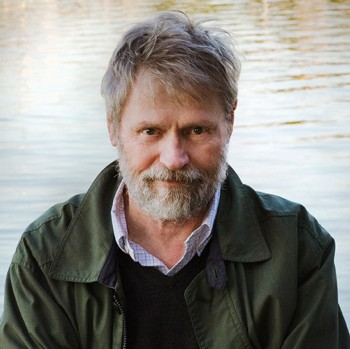 Ross Edwards
One of Australia's best known and most performed composers, Ross Edwards lives and works in Sydney. His commitment to the ideal of music as a positive and regenerative force within the community has led him to explore beyond the confines of Western Art Music.
Edwards' distinctive sound-world interfuses shapes and patterns from nature with a variety of musical resources which reflect and celebrate Australia's cultural diversity. In his Maninya (dance-chant) pieces, Edwards has pursued an ideal of wholeness - a reintegration of mind, body and spirit and a restoration to 'serious' music of such qualities as lightness, spontaneity and the impulse to dance. Naturally these works have attracted choreography, notably Stanton Welch's ballet Maninyas - based on the violin concerto of the same name - for the San Francisco Ballet and the Singapore Dance Company, as well as Chrissie Parrott's recent interpretation for the West Australian Ballet.
Edwards is perhaps best known for his orchestral music. His compositions include Enyato III (1995) composed for the Sydney Symphony's European Tour in 1995, Concerto for Guitar and Strings (1995) for John Williams and the Darwin Symphony Orchestra, Symphony No. 2 - Earth Spirit Songs (1997) for Yvonne Kenny and the Sydney Symphony, White Ghost Dancing (1999), for David Porcelijn and the Tasmanian Symphony and Symphony No. 3 - Mater Magna (2000) for the Melbourne Symphony. The acclaimed ABC Classics CD featuring the Sydney Symphony performing Symphony No. 1 - Da Pacem Domine (1991) received the highest accolade as Editor's Choice in the 1996 Cannes Classical Awards in France, having already won an Aria award in Australia.
By no means restricted to the concert hall, Ross Edwards' music is frequently used to accompany dance and film, a list of credits which notably includes the original score for the feature film Paradise Road directed by Bruce Beresford. His Dawn Mantras was telecast at the dawn of the new millennium from the sails of the Sydney Opera House to worldwide acclaim.
Ross Edwards has created a distinctive sound world aligned with principles of deep ecology while seeking to reconnect music with elemental forces and restore its traditional association with ritual and dance. His music, universal in that it is concerned with age-old mysteries surrounding humanity, is at the same time deeply connected to its roots in Australia, whose cultural diversity it celebrates, and from whose natural environment it draws inspiration, especially birdsong and the mysterious patterns and drones of insects. As a composer living and working on the Pacific Rim he is conscious of the exciting potential of this vast region.
Ross Edwards has composed prolifically in most musical genres. Some of his works for the concert hall allow for special lighting, movement and costume, notably his Fourth Symphony Star Chant and Frog and Star Cycle, a concerto for saxophonist Amy Dickson, percussionist Colin Currie and the Sydney Symphony. His Dawn Mantras greeted the new millennium in a global telecast from the sails of the Sydney Opera House to universal acclaim. Later works include Dances of Life and Death for the Sydney Conservatorium Wind Symphony; Singing the Love, for The Choir of King's College Cambridge and Vespers for Mother Earth, a large-scale work for the Judith Neilson Institute.
Compositions by Ross Edwards appear on