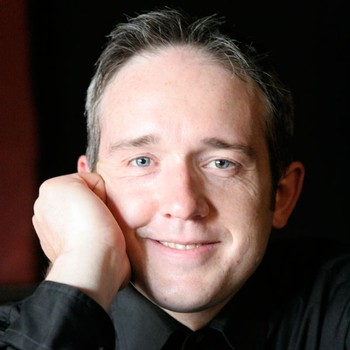 Clemens Leske
Clemens Leske has been concerto soloist with all of Australia's symphony orchestras (Sydney, Melbourne, Adelaide, Tasmanian, West Australian and Queensland and has regularly performed with the Australian String Quartet, the Australian Chamber Orchestra, the Moscow Virtuosi and at such festivals as the Barossa International, Huntington, Spring and Adelaide and was recently soloist with the Bangkok Symphony performing the Schumann piano concerto for the King of Thailand's 50th birthday.
Leske has released six albums of solo piano and chamber music. In May 2005 he gave his London debut in the Royal Festival Hall, performing Rachmaninov's First Piano Concerto with the London Philharmonic Orchestra. Recent appearances have included four performances as soloist with the Sydney Symphony at Angel Place and the Opera House, performing Mozart's K413 Piano Concerto in F, a performance of Mozart's K467 C Major concerto at the Sydney Myer Music Bowl with the Melbourne Symphony, a national tour with the very successful "Steinway Spectacular" stage show, three performances of Strauss' Burleske with the Sydney Symphony under the baton of Vladimir Ashkenazy and a recent national tour in partnership with world-renowned flautist Sir James Galway.
He is currently Lecturer in Piano at the Sydney Conservatorium of Music.
Artist's website: www.clemensleske.com
Press quotes
"Australian pianist Clemens Leske's Rachmaninov brought a much-needed shot in the arm. He was completely at home in this concerto- with well-judged and authentic-sounding rubato his interpretation was never over the top or showy. His musicality and pianism make this guy definitely one to watch!""
— Hayden Jones, Classical Source, London London Philharmonic Orchestra, Denis Vaughan Conductor Royal Festival Hall London, Tuesday, May 17, 2005,
""As Clemens Leske rose from the piano to take a bow, the Concert Hall erupted. His performance of Tchaikovsky's Piano Concerto No.1 received no less than five curtain calls and a standing ovation, well-deserved praise for his impassioned and fiery recital.""
— Sydney Morning Herald,
TrioKROMA was formed to give a voice to the charming Romantic repertoire written for piano, voice and clarinet. Performing works ranging from Schubert's popular iconic masterpiece 'Shepherd on the Rock' to exposing lost gems by composers such as Lachner, Spaeth, Proch, Lindtpaintner and Kalliwoda - TrioKROMA performs a delightful selection of works from Art Song through to the Salon and Chamber Music of the German Romantic tradition.

The winning combination of voice, clarinet and piano delighted intimate gatherings and inspired many lovely works… Australian Soprano, Elena Xanthoudakis is joined by clarinettist Jason Xanthoudakis and pianist Clemens Leske.
Performer: Piano