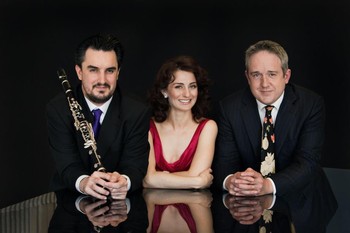 TrioKROMA
TrioKROMA was formed to give a voice to the charming Romantic repertoire written for piano, voice and clarinet. Performing works ranging from Schubert's popular iconic masterpiece 'Shepherd on the Rock' to exposing lost gems by composers such as Lachner, Spaeth, Proch, Lindtpaintner and Kalliwoda - TrioKROMA performs a delightful selection of works from Art Song through to the Salon and Chamber Music of the German Romantic tradition.
Some chosen pieces, including the virtuosic and seductive 'Shepherd and the Mermaid' requiring a concert pianist on the keyboard, and Lachner's tender 'Er, der Herrlichste von allen' from Frauenliebe und -Leben, are virtually unknown treasures that will soon become concert hall favourites.

TrioKROMA is comprised of international soprano from Victoria, Elena Xanthoudakis, who is found performing in renowned opera houses including the Royal Opera House, Covent Garden and the English National Opera. Elena is joined by her brother, saxophonist and clarinetist, Jason Xanthoudakis, a regular with orchestras such as the TSO, SSO and MSO, as well as Australian concert pianist Clemens Leske, who studied at the Julliard School of Music, NY and has performed as soloist with all national Australian Orchestras as well as lecturing in Piano at the Sydney Conservatorium of Music.
Artist's website: www.triokroma.com
TrioKROMA is featured on the following titles

The winning combination of voice, clarinet and piano delighted intimate gatherings and inspired many lovely works… Australian Soprano, Elena Xanthoudakis is joined by clarinettist Jason Xanthoudakis and pianist Clemens Leske.
Members of TrioKROMA

Elena Xanthoudakis holds a Bachelor of Music (Honours) and a Graduate Diploma of Opera from the Victorian College of the Arts and a Master of Music from the University of Melbourne. On scholarship at the Guildhall School of Music and Drama, London, she received her MMus with distinction. Elena also studied at the Maggio Musicale (Florence).

Jason was awarded his Diploma and a Graduate Diploma in Music (Performance) from the Sydney Conservatorium where he studied with Frank Celata, Mark Walton and James Nightingale.

Clemens Leske has been concerto soloist with all of Australia's symphony orchestras (Sydney, Melbourne, Adelaide, Tasmanian, West Australian and Queensland and has regularly performed with the Australian String Quartet, the Australian Chamber Orchestra, the Moscow Virtuosi and at such festivals as the Barossa International, Huntington, Spring and Adelaide and was recently soloist with the Bangkok Symphony performing the Schumann piano concerto for the King of Thailand's 50th birthday.